Dull and Boring: Should towns embrace silly names?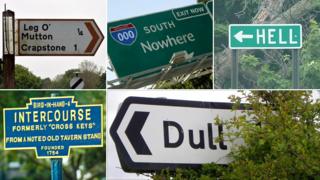 The communities of Dull and Boring have paired up, but other towns have found odd or quirky names a burden. Should they celebrate their innuendo-laden titles?
Never before has such a frenzy of interest surrounded Dull and Boring.
The latter, a town of 15,000 in the US state of Oregon, has voted in favour of "pairing" with the former, a small Perthshire village. In a version of events suggestive of a whimsical British feature film, the arrangement had been suggested to Boring Community Planning Council by the Dull Women's Book Club.
Ingeniously witty the connection may not be, but it has succeeded in generating acres of publicity for the twin settlements.
Both hope their link-up will attract tourists eager to be photographed alongside signs displaying legends such as "Dull, in association with Boring".
But although they may have embraced their names, not all communities graced with unusual or innuendo-laden titles have been so quite so sanguine about outsiders taking amused delight in them.
In May, Staines changed its name to Staines-on-Thames. As well as sounding like something one might employ washing powder to remove, the Surrey town was eager to shed its widespread association as the home of Sacha Baron Cohen's hip-hop idiot savant Ali G.
In 2004, Lost in Aberdeenshire re-christened itself Lost Farm after souvenir-hunters ensured that its road signs kept going missing.
And bemused residents of an Austrian town whose name translates as a well-known Anglo-Saxon profanity have long had to contend with regular influxes of sniggering English-speaking visitors.
Indeed, while Dull and Boring may be keen to attract outside attention, others may be less enthusiastic - particularly in the UK, where the national affection for double entendres might eventually wear thin among residents of the likes of Pratt's Bottom, Kent, North Piddle, Worcestershire, and Titty Ho, Northamptonshire.
But actually changing the name of a town or village is a drastic move, requiring much bureacratic effort and, inevitably, drawing further attention to whatever was the focus of widespread amusement in the first place.
Piers Guilar, a strategist with the branding agency Siegel+Gale, argues that it makes far more sense to work with an existing name than undertake the arduous process of reinventing a community.
"I'm sure in Staines they were quite distraught by the Ali G associations," he says. "But you should be proud of your roots.
"It has to be pretty bad before you should think about changing the name. It takes so many years to build a brand - there's a huge amount of time and effort involved. If there's been negative publicity you just try and get over it."
However, the practice of re-titling communities due to unfortunate double meanings is far from a modern phenomenon.
According to Carole Hough, professor of onomastics at the University of Glasgow and convenor of the Scottish Place Name Society, it dates as far back as the 11th Century, when the Leicestershire settlement of Merdegrave - from the Old English words for "marten" and "grove" - had a quite different meaning to the newly-arrived Normans, and was renamed Belgrave.
Likewise, she says, Holyport in Berkshire was known as Horigport - meaning dirty or muddy market town - until the 14th century, when, presumably, it was felt that the community would prefer to project a different impression.
"This kind of thing has been happening for centuries with people trying to seek an upgrade," says Hough.
"Through the years there has been a movement from place names serving a descriptive purpose to becoming labels and, in some instances, a brand."
Certainly, the two latest quirkily-named communities to make the news have long traditions of their own to draw upon. It is thought that Dull's name is derived from the Pictish word for fields, while Boring was named after William H Boring, an early resident.
"Dull and Boring have had their names for years. It's inspired to try and draw on that," Guilar adds.
"I don't think it will bring huge amounts of revenue but it will get them talked about a bit. And it's bringing associations that are less, well, dull."