Cameron cheer: Is it OK to celebrate next to a losing fan?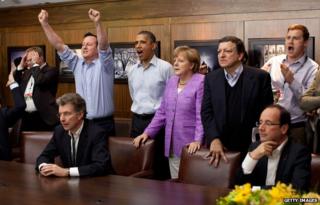 David Cameron celebrated Chelsea's penalty shootout win over Bayern Munich with arms aloft and clenched fists. A couple of feet away stood a crestfallen German Chancellor Angela Merkel. Is this a sports fan etiquette breach?
The newspapers described German leader Angela Merkel as standing "stonyfaced", while David Cameron said his elation was born of surprise.
"It's not often you get the opportunity to watch a penalty shootout between an English team and a German team and watch the English team win," Cameron told reporters in Chicago before a Nato summit.
"There are many great privileges in this job, but to be able to do that with the German chancellor was a great moment - but we did hug and make up afterwards," he said.
Cameron's situation is one that football fans frequently find themselves in at the pub.
In a mixed group of Manchester United and Liverpool fans, for example, how much can you celebrate a goal? Or River Plate and Boca Juniors? Or rugby fans of Leinster and Ulster?
Cameron displayed the classic victory pose, says body language and behaviour expert Judi James. "We call it armpit-baring. It goes back to schooldays with your hand in the air. It's celebrating a form of superiority."
To football fan Mark Perryman, author of Ingerland: Travels with a Football Nation, David Cameron did nothing wrong.
"The way he [Cameron] had his hands in the air saying 'well done chaps' is all to the good."
But of course, Cameron was not down the pub with his mates. He was with peers whose help he needs in matters of diplomacy and European governance.
Sir Stephen Wall, Tony Blair's former adviser on Europe, was surprised by Cameron's reaction. "I must say I thought 'wow' when I saw the photos. The striking element was how in your face Cameron was being with Merkel almost right next to him."
Blair in contrast "was very careful about his public presentation", he says. He refused to kick a football about with Gerhard Schroder once despite probably being a better player than his German counterpart. "He told me it would have been wrong to be seen doing it - it must have been at the time of Iraq."
There was no malice in what Cameron did and he probably got caught up in the moment, Sir Stephen says. There might even have been an attempt to impress President Obama who was standing beside him.
"As prime minister one of the things you're paid to do is not to get caught up in the moment."
For Jo Bryant, an etiquette adviser at Debrett's, it is fine to show your joy. But it needs to be done in a respectful manner. "All things in moderation especially if the other person can be offended. You can celebrate and be happy but don't rub their faces in it."
Senior professionals do need to think about the pitfalls of watching sport with their peers, says Bryant. "You can be a bit less guarded if it's at home but in a work situation your behaviour needs to reflect that. It's the same as an office party - you can let your hair down but you still need a professional air."
The Players' Box at Wimbledon puts this into sharp focus. How should one lot of family members greet success while in the next row the other entourage is suffering?
The Henman parents used to confine themselves to polite clapping and smiles. However, Richard Williams - father of Serena and Venus - has been exuberant in celebrating wins.
For Judi James, the likes of Cameron should be honest about their reaction and not try to hide it. "This is one area where you can be as demonstrative as you like. It's pseudo battles, it's not real ones."
Much of the concern about football fans celebrating comes from segregation at grounds, says Perryman. "A lot of trouble is because people are segregated so legitimising people behaving in an anti-social or violent way. It's because there's a fence between you."
At most international tournaments like the World Cup and European Championships the segregation breaks down. Fans are all mixed up in the stands with no problem, he argues. "So people do celebrate in the way David Cameron did sitting right next to a German."
One other consideration is a country's perception abroad. Sir Stephen remembers an EU summit in Seville when England's exit from a football tournament was greeted by a "great cheer" by the different nations' delegations.
A similar thing happened when the Danes beat the Germans, he says.