John Edwards: A guide to bouncing back from disgrace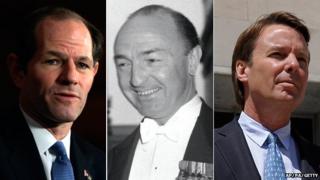 What happens now that former presidential candidate John Edwards' case has ended in a mistrial? A look at other disgraced politicians who managed to rebuild.
Edwards was once considered one of America's brightest political stars. He was an anti-poverty crusader with vast personal wealth, boyish good looks and charisma to spare. But his affair with photographer Rielle Hunter - conducted while his wife was dying of cancer, exposed by a supermarket tabloid, and producing a child - has made him a punchline.
It could have made him a criminal. Brought up on six counts of illegally using campaign funds to hide the affair, a jury found Edwards innocent in one instance. They were unable to come to an agreement on the other five, and the judge declared a mistrial. Now, the US Department of Justice must decide whether or not to try him again.
But no matter what happens next, Edwards has already been found guilty in the court of public opinion.
"He's seen as manipulative, a schemer, not seen as likeable. He just comes off as slimy," says Ronn Torossian, the chief executive officer of the 5W PR, a crisis communications firm.
But all hope is not lost for Edwards, or for other scoundrel politicians who fall from grace. Here are five strategies adapted from those who have aimed high, crashed low, and gone on to rebuild.
1. John Profumo, former British member of Parliament
The shame: Caught up in one of the first real sex scandals of the modern age, his 1961 dalliance with a model led to his demise as a politician. Because that model was also seeing a Russian diplomat, it was publicly investigated as a matter of national security. Profumo resigned after admitting he lied to the House of Commons during the investigation.
The strategy: Repent, repent, repent. Profumo devoted the rest of his life to charity work, doing menial tasks at a community centre in London. He became the centre's chief fundraiser and died redeemed.
Edwards' odds: Decent. Edwards was deeply committed to America's poor, and even if he loses his law licence, could devote his energies to on-the-ground work.
2. Richard Nixon, former US President
The shame: President Nixon resigned in the wake of the Watergate scandal. A lengthy investigation by the Washington Post determined that he and his campaign staff had funded and approved break-ins and illegal surveillance of his political enemies.
The strategy: Remain a player behind the scenes. "Nixon's role in the nation became that of an elder statesman," says Bob Bostock, who worked with him from 1989 to 1994. "He was always recognised and acknowledged as the pre-eminent foreign policy expert at the time. He continued to weigh in on foreign policy issues," especially to sitting presidents, and he wrote several books on the subject.
Edwards' odds: Not likely. Though he was considered a potential presidential nominee, Edwards doesn't have the gravitas or the political skill that Nixon possessed.
3. Jeremy Thorpe, former British Liberal party leader
The shame: In 1970s, Thorpe was suspected of having a gay lover, then later formally accused of plotting to kill said lover. (That man survived, but his Great Dane was shot in the head). Thorpe's re-election bid took place a few weeks before the trial began. He lost his seat, but was found not guilty.
The strategy: Disappear for a bit. Thorpe mostly stayed out of the national spotlight for almost two decades. When he did re-emerge - as a visitor to the Liberal Democrats' convention in the 1990s, he received a standing ovation. "It seems that politicians who leave on a less-than-savoury note have a better chance of making a plausible comeback if they wait a few years, lie in the weeds, and do something else," says Geoffrey Skelley, media director of the Center for Politics at the University of Virginia. "Let the public think about other things."
Edwards' odds: A good plan, but may be hard to execute it in the era of tweets and celebrity websites such as TMZ. Considering his scandal was broken by a tabloid mag, expect continuing paparazzi attention.
4. Marion Barry, Washington DC Councilman
The shame: Former civil-rights leader Marion Barry served as Washington DC's mayor for two terms before he was convicted of drug possession. He served six months in jail, but two months after his release, he ran for city council - and won, with the slogan He May Not Be Perfect, But He's Perfect for DC.
The strategy: Go on the offensive. Though he was caught on camera doing drugs, Barry maintained he was set up, and many residents of DC agreed. "A large portion think he was targeted because he's a well-known black mayor," says Skelley. "The attitude was there are a lot of other people in politics guilty of crimes, and they chose to go after him."
Edwards' odds: Will never happen. Edwards is considered a victim of his own hubris and bad judgement, not his politics, and doesn't have a committed base standing by his side.
5. Eliot Spitzer, former New York governor
The shame: Caught in a federal investigation into inter-state prostitution, the once-esteemed governor was exposed as the infamous Client Nine. He resigned 10 days later.
The strategy: Hit the airwaves. Contrite immediately after being caught, Spitzer refused to wear the hair-shirt for long. Instead, he participated in a documentary that painted the investigation as politically motivated, spurred on by Wall Street barons who he said felt threatened by his plans for reform. He rebranded himself a media pundit and started writing for Slate and the New York Times, as well as hosting his own TV show. "It's difficult to reinvent yourself in the same position, but you can create an alternative or second career," says Andrew Taylor, a professor of political science at North Carolina State University.
Edwards odds: Possible. His boyish looks are made for TV. But while Spitzer's scandal was over relatively quickly, Edwards has spent years tarred by his misdeeds. "It's 2012, and we're still talking about allegations from the 2008 election," says Torossian. The public have short memories, but for many, Edwards has already lingered too long.