Runner holding Libya's Olympic hopes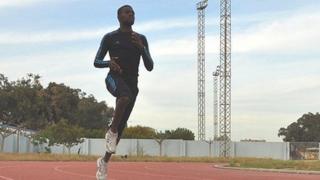 During Muammar Gaddafi's 42-year rule, professional sport was actively discouraged in Libya but, in London this summer, one young athlete hopes to win his country's first Olympic medal.
He may be the fastest man in Libya but Mohamed Khawaja has something of a saunter about him, as he comes towards me at Tripoli's dilapidated Almudmar stadium.
He negotiates the hissing sprinklers that are struggling to keep the grass green on a balmy spring evening. And sidesteps a group of chunky, Lycra-clad teenagers, alarmingly tossing javelins in all manner of directions as if they were discarding cocktail sticks.
At just 65 kilos (10 stone) and well under 1.8 metres (6 ft), Mohamed is surprisingly slight for a 400-metre man.
He is a pocket model of his heroes, the Jamaican Usain Bolt and the American Michael Johnson.
To say that he carries not an ounce of fat barely does him justice.
Nothing went to waste when Mohamed was created.
But the 24-year-old is quick, flashing past me effortlessly as he begins to limber up.
He is the current African champion and his personal best of just under 45 seconds would have placed him fifth in the Beijing Games four years ago.
Libya has never won an Olympic medal of any description.
Mohamed is looking to change that in London.
But the past tumultuous year in Libya has not been easy.
2011 was a write-off in terms of competition. Revolution was not conducive to racing.
Mohamed says he was barely able to lace up his spikes and train for most of last year.
But he blames the 42-year rule of the man he calls the Tyrant Gaddafi, for the poor state of Libyan sport.
He says professional athletes were neglected, with money and sponsorship hard to come by.
Only recently, Mohamed tells me, could he strike a sponsorship deal with Adidas - hence his slick, silky black kit that adorns him tip-to-toe.
In the former Libyan leader's famous Green Book - the rambling philosophical text that covered everything from government to gynaecology - elite athletes were given short shrift.
Sport, it declared, must be for the masses and not for the individual to monopolise.
But of course, as league leaders in double standards, the Gaddafis played by their own rules.
Until recently Libya had only one famous or, should I say, infamous sporting son - Saadi Gaddafi, the colonel's third child. He is now believed to be holed up in neighbouring Niger, having fled the fighting last year.
In a country where nepotism itself was played out at a professional level, having daddy as dictator did wonders for Saadi's stumbling ambitions as a footballer.
An attacking midfielder of modest mettle but mighty means, Saadi was made captain of the national team before going on to become the head of Libya's Football Federation and a board member at the Italian club Juventus.
But he was a powerful player in only one sense. In a four-year career in Italy's top league, he managed to get on the pitch for less than half an hour.
More of a mascot than a match winner, Saadi was banned for drug use in 2003.
This was hardly surprising given that, among his training advisers, he listed Diego Maradona - no stranger to a powdering of nose - and Ben Johnson, the disgraced, steroid-munching Canadian sprinter.
In Libya, Saadi's security guards at a match once reportedly opened fire on the crowd, when supporters began to boo his team.
There are allegations that rival players were beaten and even murdered. Hardly fair play.
And Saadi was not the only one who benefited from sporting jobs for the boys. Another of Muammar Gaddafi's sons was head of Libya's Olympic Committee.
Raising the flag
Back at the track, Mohamed Khawaja lies back on the sun-kissed tartan and stretches out his seemingly elastic hamstrings to a point where most would have long been strung.
He tells me he came across his namesake Mohamed Gaddafi many times.
One of the last occasions was at the start of the uprising last year when Gaddafi junior asked him to parade on state television adorned with a green flag to show his support for the regime.
Mohamed says he made his excuses and ran in the other direction.
He readily admits he was scared to get involved in the conflict and did not fight with the rebels.
But he sees himself as a face of the new Libya.
He knows that success of any kind in London would be a boost for this country which is still trying to find its feet.
Libya's new political leaders, who are struggling - but just about managing - to constrain the dozens of trigger-happy militia who now police the country, urge patience.
Mohamed Khawaja might benefit from such advice. Rio 2016 could be a more realistic target.
But before he trots off into the Tripoli night, he tells me that just to raise Libya's new red, black and green flag at London's opening ceremony will be a victory in itself.
 How to listen to From Our Own Correspondent:
BBC Radio 4: A 30-minute programme on Saturdays, 11:30 BST.
Second 30-minute programme on Thursdays, 11:00 BST (some weeks only).
Listen online or download the podcast
BBC World Service:
Hear daily 10-minute editions Monday to Friday, repeated through the day, also available to listen online .
Read more or explore the archive at the programme website .