Can a photograph boost a book's sales?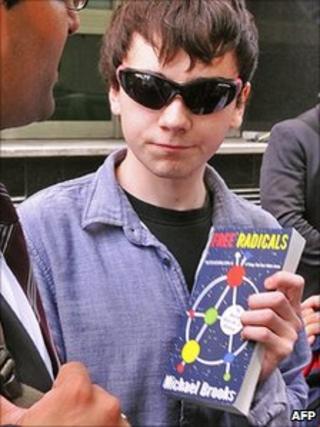 As a teenager from the Shetland Islands emerged from a court charged in connection with alleged computer hacking, the media caught the moment. And it was not just Jake Davis himself who attracted attention but also the book that he was carrying.
For many writers, the success of their work relies on the marketing skills and advertising budget of their publishing house, in order to get their title in the public eye.
But some spontaneous publicity is better than anything you can plan for.
Such was the case when hacking suspect Jake Davis was photographed holding Free Radicals: The secret anarchy of science. Davis's choice of reading material resulted in large pictures of its cover on page three of both the Times and the Independent.
The burst of free publicity helped the book climb 2,627 places up the Amazon bestseller list to 182 within 48 hours.
Michael Brooks, the author of Free Radicals, acknowledges that this is "the kind of publicity that you just couldn't buy".
"It was interesting that he's chosen to wave it around in front of journalists," says Brooks. But the author was not surprised that Davis would be reading his book, which looks at the lengths that scientists will go to for the sake of new discoveries.
Normally authors hope for a book that "catches a mood or does well through word of mouth", suggests Brooks.
But it's not the first time that the sales of a book have been boosted by photographs of them in the hands of a celebrity.
Very often this is a quick route to publicity for books of the motivational or self-help variety.
After Paris Hilton was seen clutching a copy of The Power of Now, sales of the spiritual manual flew up the Amazon chart from 5,000-plus to the top 200.
Sarah Bennie of Ebury publishing says the association with a celebrity does have a knock-on effect for sales.
She cites the example of Warren Buffett and How to Win Friends and Influence People, which he is regularly quoted as saying "changed my life".
Bennie says that when Buffett first mentioned it on TV, the bestseller enjoyed a renewed sales spike.
There may be an obvious reason why a book recommended by a multi-millionaire could attract readers. But in most cases it is simply a photograph of someone carrying a book which can make people follow suit.
"People are always fascinated in what inspires people they're interested in," Bennie says.
Free Radicals was published last month, but the phenomenon commonly touches books that have been on the shelves for years.
When Victoria Beckham was spotted in LA reading a book called Skinny Bitch, it sparked a surge in sales of the US diet guide.
It was 18 months after the book had first hit the shelves but it took the former Spice Girl's endorsement to take it to number three in the New York Times' best-seller list in August 2007.
Bennie confirms that this is often the case. "It certainly helps create awareness and curiosity in a book that may have been around a while," she says.
It's not just non-fiction. After Frank O'Hara's Meditations in an Emergency featured prominently in the second series of Mad Men in 2008 the book of poetry, which was originally published in 1957, sold out on Amazon within days.
If the book is already high up the book charts, it is more difficult to identify a link between a celebrity sighting and sales. When Emma Watson was recently spied clutching a copy of A Third Helping of Chicken Soup for the Soul it was already doing well and there is no sign that she made a difference.
Similarly there is no evidence to suggest that photographs of Lindsay Lohan's choice of reading material - Toxic Friends: The Antidote for Women Stuck in Complicated Friendships - affected the book's success, but it did raise a few eyebrows having been taken so soon after her split with DJ Samantha Ronson.
Not every author is wholly satisfied with a celebrity link.
In a speech in January 2006 Tony Blair referenced sociologist Richard Sennett and his book Respect: the Formation of Character in an Age of Inequality.
Although this did lead to increased sales for the book, Sennett notes that he "had to deal with various complaints based on Blair's invocation of Respect for his Asbo policy".