Been and Gone: Marathon mystery man and Mugabe's foe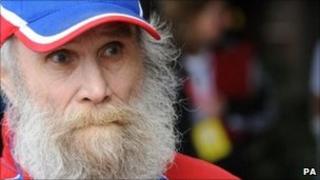 Our regular column covering the passing of significant - but lesser-reported - people of the past month.
One of the few certainties about Buster Martin was his ability to tell a good story. The man who was holding down a job at the alleged age of 103 became something of a feature in the British press, helped by his ready wit and his tales of a colourful past. He claimed to have been born in 1906 in France, hence the lack of any birth certificate, and brought up at an orphanage in Cornwall. He said he met his future wife when he was 13 and she was 12 and married her in France a year later, although there was no wedding certificate. Neither are there any birth records for the 17 children he claimed to have fathered. He worked for many years in Brixton market in south London before, as he told it, getting bored and going to work cleaning vans for a firm of south London plumbers. Thanks to the publicity put out by the company he became something of a character, a reputation that was enhanced when he set off on the 2008 London Marathon, allegedly aged 102. However, Guinness World Records refused to recognise his claim to be the world's oldest marathon runner and research cast considerable doubt on his claimed age after it was discovered he had registered two separate birth dates with the NHS. He once said he owed his longevity, however long it actually was, to cigarettes, beer and red meat.
Devotion to a disabled daughter, coupled with a touching lack of business acumen, prevented the singer-songwriter Phoebe Snow from making a far bigger impact on the music scene than she actually did. Her song Poetry Man took her distinctive voice into the upper reaches of the singles charts in 1975 and her unique style of blues-tinged folk music saw her nominated as best new artist in that year's Grammys. Her 1976 album Second Childhood went gold but her decision to look after her brain-damaged daughter at home, rather than put her in care, saw her music take second place. She made a few live appearances and sang alongside Paul Simon on one occasion as well as performing commercial jingles. Her naïve approach to legal matters saw her in dispute with record companies over contracts and a number of lawsuits left her with financial problems. However, she never regretted putting her daughter first. "My life was her, completely about her, from the moment I woke up to the moment I went to bed at night," she said.
Daring to challenge the regime of Robert Mugabe in Zimbabwe is a dangerous business, but Mike Campbell became the figurehead of the plight affecting white farmers in the country. When the Zimbabwean president began encouraging the illegal seizure of white-owned farms, Campbell's property was occupied by a group of so-called "war veterans". Instead of capitulating, Campbell took his case to the region's highest court, the Southern African Development Community (SADC) Tribunal which condemned the seizures as "racist" and theft on a grand scale. It ruled that the redistribution programme was discriminatory and was not being implemented according to the rule of law. However, two days before the ruling, Mr Campbell, his wife and his son-in-law were kidnapped by militants and savagely tortured. He never fully recovered from the beatings. Eventually a member of the Mugabe government led an invasion of the farm, destroyed the buildings and evicted the local workers. Campbell's story was made into an award-winning documentary, Mugabe and the White African, which was shot secretly and succeeded in highlighting the effects of Mugabe's policy on the country's once prosperous agricultural industry.
Dubbed by her opponents as a latter-day Lucrezia Borgia, Madame Nhu was one of South Asia's most powerful women. She was effectively the first lady of South Vietnam between 1955 and 1963 during the regime of her unmarried brother, Ngo Dinh Diem. She also participated in the nepotism and corruption that was a feature of his presidency, giving government positions to her relatives and living a luxurious lifestyle. She became famous both for her glamorous appearances in figure-hugging clothes and her drive to outlaw abortion and make adultery and divorce illegal. She also attempted to ban beauty pageants, musical entertainment and boxing matches. She was widely condemned for her dismissive attitude to Buddhist monks who had begun setting fire to themselves in public as a protest against Diem's repression of their religion. Her offer to bring fuel and matches to the self-immolations alienated even her own family and, more importantly, undermined American support for the Diem regime. Her power abruptly ended in 1963 when Diem was assassinated, and she was forced into exile in France.
Actress Angela Scoular had the rare distinction of appearing as a Bond girl not just once but twice. Her first 007 role was as Buttercup in the 1966 spoof, Casino Royale, where she got down, but not dirty, in a bath scene with David Niven. Three years later she was bedded by George Lazenby in On Her Majesty's Secret Service. She appeared in a number of other films of the period including A Countess from Hong Kong and Here We Go Round the Mulberry Bush. In 1967 she played Cathy in a BBC adaptation of Wuthering Heights, a performance that is said to have inspired Kate Bush to write her hit song in 1978. She had a number of roles in television and the theatre including parts in Coronation Street and as the raunchy Lady Agatha Shawcross in the comedy series, You Rang M'Lord. In 1982 she married the actor Leslie Phillips, whose love interest she had played in the 1970 film, Doctor in Trouble.
Welsh thriller writer Craig Thomas created the all-American hero who gave Clint Eastwood one of his most famous film roles. His second novel, Firefox, published in 1977, saw Eastwood not only play Thomas's hero, Mitchell Gant, but also direct the film. Gant manages to get into Soviet Russia and steal a brand new MiG fighter that not only has stealth capability but has weapons that can be fired by the pilot's thought processes alone… as long as the pilot can think in Russian. The release of the film brought Mr Thomas worldwide fame and he was able to give up his teaching job in the Midlands and devote himself to writing. He published a total of 17 thrillers, one of them, Firefox Down, being a sequel to his most popular novel although Hollywood declined to make another film. Many fans feel it was Thomas, rather than the higher-profile author, Tom Clancy, who was the true pioneer of the so called "techno-thriller".
Among others who died in April were the creator of Only Fools & Horses, John Sullivan; the actress who played the Doctor's companion, Sarah Jane Smith, Elisabeth Sladen; punk rock chanteuse Marian Joan Elliott-Said aka Poly Styrene: actor Trevor Bannister, Mr Lucas in Are You Being Served? and award-winning director of Dog Day Afternoon, Sidney Lumet.