A fish tank, rocks and some breadcrumbs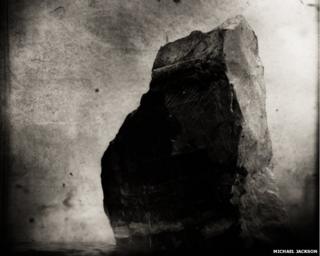 Sometimes all is not as it seems, and these pictures of seemingly huge rocks set on a wild coastline are in fact nothing of the sort.
Michael Jackson has been photographing Poppit Sands in Pembrokeshire for more than six years - but, being unable to spend every minute there, he began shooting in the studio, bringing the beach indoors, and, following some experimentation, has hit upon an interesting way of working.
"The series of work is called A Child's Landscape and they are all made in my studio using a fish tank, rocks and some breadcrumbs," says Jackson.
The process begins with pencil sketches of the Pembrokeshire coast, on which the studio landscapes are based.
There is also a real-world link.
"I was also inspired by my great-great-great uncle Reginald Koettlitz, who was the surgeon on board the Discovery [British National Antarctic Expedition] with Robert Falcon Scott," says Jackson.
"He took wonderful photos of his adventures in the Antarctic and had a glacier named after him."
The title reflects the fact the images offer a glimpse of childhood adventures, pirates and explorers.
"I let my own childhood memories run free and try to imagine how a child's excited imagination transforms the ordinary into something full of towering cliffs, storms and adventure," says Jackson.
"I also name these fictitious places - it feels like I am making a little world to explore."
Jackson calls his technique "the inverted-water process", as the subject is placed under water and then the image is turned upside down.
"There is a further inversion where I turn the positive image into a negative," he says.
But what about the breadcrumbs?
"The breadcrumbs are thrown in just before the shot is taken and the water is swirled around.
"Then as the picture is being taken I move my hands to create reflections in the fish-tank glass - kind of like the dodging and burning process in a darkroom.
"This gives me a certain amount of control over the lighting and mood."
As you can imagine there was a long period of trial and error.
"I think the whole idea of discovery in photography is incredibly exciting.
"There are so many ideas to be sought out and so many new avenues to explore.
"It can be quite overwhelming sometimes and you have to be prepared to go down many dead ends when you are looking for something new. But it is worth it.
"For me the final image is not the only reason for exploring photography.
"It is also about the excitement of personally moving my ideas forward.
"And I have found that each project feeds into another one - they are all related somehow.
"And that is how an artist moves forward I think.
"They explore and play and discover and keep on going."
Jackson hopes to find a collaborator who can build up a story around the work, and he adds: "I have also had a few ideas about putting together a blog solely based on a fictitious character sailing around this fictitious land."
You can read more about Michael Jackson's pictures on his website.