From the Upper Deck revisited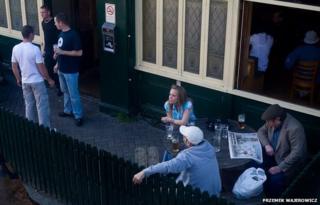 Przemek Wajerowicz has been living in London for more than eight years and began to photograph scenes from the top deck of buses as a way to kill time while stuck in traffic during his commute to work.
It is a project that first grabbed my attention back in 2009 and I have been following it ever since so thought it was time for an update on here.
"I quickly realized that the vantage point offered by a double decker bus was perfect to document the ordinary, sometimes mundane life of the city and so I started my photo blog, From The Upper Deck, as a digital scrapbook," said Wajerowicz.
He takes all all the photos with a fixed 50mm lens, which I think ensures there is a uniformity to the work. Importantly it also means he is not tempted to isolate small sections, it is the wider view that is always so important.
Since last we spoke, he has taken many more photos and travelled on about 170 bus routes though still has many more to shoot from to complete his aim of capturing a scene from all the double-decker routes in the capital.
Once that is complete he will aim to publish a book of the work. Recently he has produced a delightful small book of postcards designed by Esther Metcalf. There's no substitute for a hard copy, in my opinion.
Here are a few of his recent pictures, take a look and be sure to follow him on Twitter and his website to keep up to date with the moments that catch his eye from the top deck.