No Pain Whatsoever at the Format Festival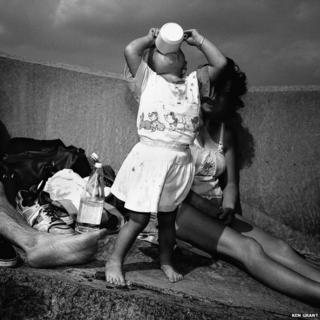 The Format International Photography Festival gets underway this week in Derby and offers a wide range of photography for visitors to soak up and explore.
Format was founded by Louise Clements and Mike Brown in 2004 and its last run in 2011 saw more than 100,000 people make their way to the Derbyshire city.
This year's show promises much, though for me the pick of the bunch will be Ken Grant's series, No Pain Whatsoever, which looks at his home city of Liverpool from the 1980s onwards.
Grant's work has been compared to that of Martin Parr or Chris Killip so it's a real treat to be able to see this for the first time. Grant is currently a Senior Lecturer in Documentary Photography at the University of Wales in Newport and his work is held by a number of major collections around the globe.
"The work is drawn together from long-term, over-lapping projects that eventually coalesce," says Grant.
"In that respect, there was no clear starting point or green light in a particular direction, or a clear brief to follow - my subjects are my contemporaries and I tend to photograph what I know, what I recognise, what we do, or what we sometimes have little choice but to do. I simply started to notice certain things recurring in the work,- certain qualities that seemed to prevail as themes."
"Photography is good at showing what's on the surface, it's descriptive and has a strange currency and relationship with reality, but I'm interested in things I recognise that might be a little less obvious and perhaps hidden or even betrayed.
"I like the possibilities that arise when pictures from discreet situations sit with others, strangely enough this often seems to make more sense than neat and tidy picture stories that we can often find in this history of photography.
"I'm interested in those connections. What happens when pictures are used in series and what that series starts to suggest.
"No Pain Whatsoever includes pictures from many locations and, unlike my earlier book The Close Season this work is consistently outside in the streets and docklands, in temporary work spaces and at the coast. I tend to photograph times outside of work, or time when work has paused or just isn't there.
"Work in my experience has always been intermittent - feast or famine - and I've been drawn to photograph both. I've had no real opportunity to reflect on the project's success, that will come as the book is published later in the year and the sequences are resolved, but I'm happy with how things are looking and what is starting to happen."
You can see more of Ken Grant's series on his website.
A trip to Derby to see Grant's work alone is well worth it but there is of course much more to see, indeed 70 photographers have pictures on show, as well as film screenings, workshops and a conference. There's also an interactive mobile photo exhibition you can take part in, though it's not all about the latest technology as you can also learn how to take pinhole photographs should you wish.
Here's a selection of some of the other work on show.
Format International Photography Festival takes place in Derby from 8 March to the 7 April 2013. The book No Pain Whatsoever by Ken Grant will be published in Autumn 2013.