It is What it Was: LCC MA Photojournalism on show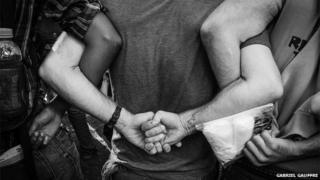 Students of this year's MA documentary photography and photojournalism course at the London College of Communication present their final projects to the public this week as their work is exhibited in London.
The final show by the 34 students on the course - It is What it Was - looks at the question of identity, mixing traditional photojournalism and documentary with more conceptual approaches.
Course leader John Easterby notes: "Their stories are fresh and original and the manner in which they are presented to the public, contemporary and in some cases, ground-breaking. Diverse as they are, the stories often reveal the similarities and connections that exist between us all."
Here's a small selection of the work - to see more, head over to their website or go to the London College of Communication, Elephant and Castle, London, SE1 6SB before 9 January.
Azul Serra
This work centres on the largest iron ore mine in the world, the Carajas Complex, which is located in the west Amazon region of Brazil. The railway that links the mine to the coast is 560 miles (900km) long and Serra travelled the entire route, photographing those he met on the way.
Philipp Ammon
The Liquid Gold Rush documents the lives of the Berber women of Morocco, who extract by hand the fruit of the Argan tree that grows only in the south-west of the country. It takes 30kg of fruit and 15 hours of work to produce one litre of Argan oil.
Will Clarkson
Clarkson's pictures tell the story of Mark, whom he describes as a gamekeeper, taxidermist, stalker and fox controller all in one.
"The project was designed to humanise a publicly demonised character, to explore his daily life, and to explore the debate that surrounds land management and gamekeeping in Scotland," says Clarkson.
Victoria Coe
Tillie is a Staffordshire bull terrier who has a special bond with her owner Claire, and is the first registered assistance Staffie in the UK.
Claire relies on Tillie for support in her battle against bipolar disorder and severe anxiety, while Tillie relies on Claire for her food, treats and walks. Coe says she enjoys sharing stories that might not otherwise be told, adding: "I think my journey as a photographer will be never-ending, and am excited to see what happens along the way."
Fabian Weiss
Weiss's series documents the experiences of teenagers engaged with a number of welfare programmes in Germany. Using documents and letters alongside the photographs, he offers a glimpse of their lives as they pass to adulthood.
Weiss's work has been widely praised, winning or being shortlisted for no fewer than seven awards, including the Getty Emerging Talent Award.
Jessie Chaney
This set of pictures follows a group of wounded British and American veterans and looks at collective memory of conflict and their stories and life beyond the injury.
Jane Baker
With a background working for NGOs and other campaigning organisations, Baker's work documents the path taken by two women who are now living in the UK following a long journey, through their struggles with authorities and what she describes as "their overwhelming strength of character".
Lewis Bush
Bush's project is entitled The Memory of History and takes as its starting point the notion that the European Union is built on a collective "forgetting of the feuds, rivalries, and wars that have divided the continent".
"At the core of all my work is the idea that in an environment where images are constantly becoming easier to create and view, questions about what photographs are and how they function are becoming ever more vital. Our addiction to photographs needs to be tempered by a better understanding of the way they distort and limit our understanding of the things they depict."
Zephie Begolo
Begolo's work explores relationships that are usually hidden from view, here focusing on a brother and sister as they battle with issues around identity and gender.
"Photography is the creative means through which I observe and investigate those most curious of creatures, humans," she says. "I am particularly drawn to the nuances of gender and look to highlight and challenge the way in which our preconceptions and expectations shape the way we interact."