Press photography on platform one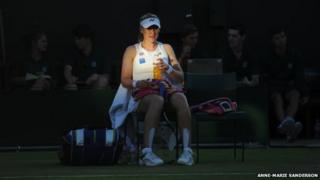 Anne-Marie Sanderson is the chief photographer for North London News and her pictures can often be seen on the front page of their titles, including the Enfield Gazette and Advertiser.
An intimate exhibition of Sanderson's work, Behind Closed Doors, opens at the cafe on platform one at Enfield Chase Station on 5 July with proceeds going to the local Chickenshed Theatre company.
Sanderson's passion for the job comes through in her pictures and the way she approaches each assignment, aware that she has to get her subjects to believe in her if she is to get an honest picture.
"Being photographed for a newspaper can be a very intimidating experience for some, especially if you're not used to it," says Sanderson. "The people I photograph welcome me into their lives and homes and trust me. For a brief time I become part of their story and my time spent photographing the subject can feel very intimate. I do not like reaching for the camera until they have told me in their own words what their situation is."
Anne-Marie's pictures also appear in the national press and on one occasion she found herself in the right place at the right time being the only photographer at Ikea in Edmonton where huge crowds attended the midnight opening of the new store.
Sanderson was caught in the middle of a breaking news story trying to photograph from within the crowd, very different from the routine store opening picture she was expecting to take. She eventually got home at 4am and set about editing the pictures before distributing them to the Evening Standard picture-desk who then syndicated them to a wider audience.
But that's not a typical day. "No two days are ever the same which is part of the attraction of the job," says Sanderson.
"I know I'm lucky to be paid for doing something I enjoy and the patch I work is fantastically varied, from hard news, murders, the riots, court jobs, to softer stories such as people raising money for charity, events in schools and so on.
"Being in London is also an attractive area for celebs and politicians to come so I have attended photo-calls with the likes of Bruce Forsyth, Theo Walcott and a huge number of politicians.
"I work remotely these days. We don't have the number of photographic staff we used to unfortunately, so I check my emails at home late each evening and put together my diary plan for the next day. During the day, I keep in touch with the reporters by phone and between jobs, I edit and send in images by FTP (file transfer program) in time for the various deadlines we have.
"We are quite unusual for a local paper. What I have always liked about our series is that we don't photograph cheque presentations, ribbon cutting or handshakes. For me as a photographer I want to create an image that tells the story. A handshake is not a story unless it is historic, as we saw last week when the Queen shook hands with Martin McGuinness."
Sanderson also enjoys the challenges of sports photography, documenting her local team, Enfield Town FC. She has just spent a week at Wimbledon, her seventh time at the tennis championships and finds the exhilaration of capturing the perfect moment "a real adrenaline rush."
"I have photographed ex-Enfield resident and world number 101, Elena Baltacha (see photograph at top of the page), at Wimbledon many times," says Sanderson. "She always plays with gusto and determination. For the sixth time, she made the second round but was unfortunately drawn against last years' tournament winner, Petra Kvitova."
Here are a few of Anne-Marie Sanderson's pictures that are on show at the coffee shop on Enfield Chase Station. The small show will run for three months though she hopes to change some of the shots as the weeks pass.
At the age of three Jack Brown was diagnosed with neuroblastoma, a childhood cancer. He was four when I first met him; when I took this picture. The Barnet Press did all it could to promote Jack's illness and to help raise funds so he could be sent to America for treatment.
Despite ongoing treatment, in November 2008 Jack relapsed in multiple areas. I have never met a braver person. I never heard him complain once and he always seemed so happy and content with life.
On 3 May 2009 Jack sadly passed away but I think his attitude towards the short life he had could teach a lot of people a thing or two and I will always remember him with fondness.
In May 2009, four months before this photograph was taken, there was a fire in Yvonne Douglas' ground floor Tottenham flat. She is disabled and hadn't been moved, despite promises from the council.
When I saw her she was very distressed. She had lost a lot of items, including her bed. The place smelled charred. The fire brigade had told her to leave the windows open otherwise she might be contaminated from the fumes still present. She told me that on several occasions robbers and local known drug-addicts had tried to take advantage of her open window and said she was very frightened.
A week later, when our story was splashed over the front of the Harringey Advertiser, Yvonne called us to say thank you. The council had called that morning with an offer of a new flat and were moving her out immediately.
This is boxer Dereck Chisora at his training gym in Finchley with his title belt. We have photographed him so many times that I knew before I arrived I wanted something other than the usual bog-standard image of the boxer standing in the ring, training, holding his gloved hands up to the lens and so on.
I remember hanging off the side of the boxing ring to get the height and angle I wanted and nearly falling off a couple of times. He was looking up into the lens and it just wasn't working for me. Then he looked down and instantly I knew that was the shot.
You can see more of Anne-Marie Sanderson's work on her website.