Top end suncreams fail SPF test as cheaper lotions pass
16 May 2014

From the section

Health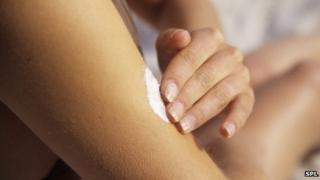 Three suncreams, which include some of the most expensive on the market, do not give the protection they claim in tests, a consumer watchdog says.
Which? said the creams - by Piz Buin, Malibu and Hawaiian Tropic - all offered lower factor protection than the SPF 30 written on the bottle.
Calypso sun lotion, at £1.20 per 100ml, was cheapest on the market and passed the watchdog's tests.
The brands said they stood by their testing techniques.
A selection of creams were tested using British Standard tests for SPF and UVA protection, using 10 volunteers.
Price unimportant?
The sunscreens protect against UVA and UVB ultraviolet radiation, which can cause an increased risk of skin cancer in high exposures.
Which? has reported that Malibu Protective Lotion SPF30, at £3 per 100ml, did not have the SPF stated on the bottle in both UVA and and SPF tests.
The watchdog said Hawaiian Tropic Satin Protection Ultra Radiance Sun Lotion SPF 30, at £7 per 200ml, offered lower SPF protection than stated on the bottle, along with Piz Buin Ultra Light Dry Touch Sun Fluid SPF30, at £11 per 100ml, which was the most expensive product tested.
The report said: "We have found that spending more doesn't guarantee better protection."
Richard Lloyd, executive director at Which?, said: "With thousands of cases of skin cancer diagnosed every year, it is vital you can trust a suncream to provide the protection it claims."
He said he wanted to see manufacturers doing "much more" to make sure their suncreams "live up to the claims on the packaging".
'Nothing to hide'
A spokesman for Malibu said: "We stand by our testing and are willing to have our formula tested again by any reputable UK testing house.
"We have nothing to hide. Our files are open for any legitimate person to come and examine."
A spokeswoman for Johnson & Johnson, which owns Piz Buin, said: "Our products are subject to rigorous safety and efficacy testing; in the case of sun care products, this includes SPF testing in line with the EU sun care recommendation."
She said consumers could be "confident" using the cream as their own testing showed SPF 30 protection.
Tests could show variability as they were on humans and in different labs, she said, so Piz Buin based its SPF on "several" other sources aside from the human tests when they were making the cream.
Hawaiian Tropic said its testing of the cream showed a higher SPF than 30, and that all its products were "rigorously tested".
The company said it was "confident" in the SPF claim on its suncreams.
Sarah Williams, health information officer at Cancer Research UK, said: "The good news from this report is that price and whether the sunscreen was a fashionable brand did not matter.
"But it is important that people can trust the information provided on the bottle, so they know what they are buying."