Hospices: The forgotten pillar of elderly care?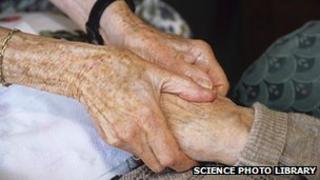 Elderly care is one of the most pressing issues in the NHS.
Whether it is the quality of hospital care or the affordability of care homes, ministers are busy trying to improve services.
But we have heard very little about hospices.
Yet, about a fifth of people - 120,000 a year - get help from them before they die.
And compared to hospitals and care homes, they are doing much better at making their final days, weeks and months comfortable.
According to the official bereaved families survey produced by the Office for National Statistics, over 80% of people feel hospices treat patients with dignity and respect compared to just over half in hospitals. A similar picture emerges with the administering of pain relief.
But is there more that hospices could do?
The sector certainly thinks so. It has set up the Commission into the Future of Hospice Care to put forward its case.
In a report published this week it says hospices could be playing more of a role - and in turn relieving the pressure on hospitals and A&E units in particular.
But to realise the potential the commission wants both hospices themselves and the NHS to raise their game.
'New revolution'
Hospices, it says, need to innovate.
For example, many of the most forward-thinking have started providing much more care in people's homes. Some will have ten times as many people on their books in the community as they will have in their actual hospice building.
But to transform themselves they need help.
The network of 200-plus hospices in the UK, which receive about a third of their funding from the NHS and two thirds from charitable donations, has largely developed around caring for cancer patients.
It means many are not properly equipped to care for the complexities of dementia and multiple illnesses that many of the elderly have these days.
To combat this, the commission says it needs the NHS to help with training staff.
But it also wants GPs and ambulance crews to engage more with hospices by sending more patients to them instead of hospital when appropriate.
Prof Dame Barbara Monroe, vice chair of the Commission into the Future of Hospice Care, believes such measures could have a significant impact.
"Modern hospices grew out of a response to appalling deficits in care for people facing the end of life," she says.
"Now nearly 50 years on, there are still too many shameful lapses which have dented public confidence in the care system.
"Hospices have a unique opportunity to once again lead a new revolution to help transform care."