Free health checks could save lives, Jeremy Hunt says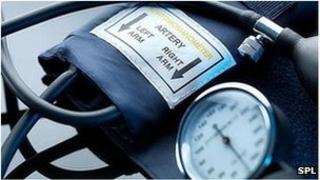 Hundreds of lives could be saved in England with better provision and take-up of free health checks, the health secretary has said.
Jeremy Hunt was highlighting the NHS Health Check programme, which is led by Public Health England (PHE).
PHE said checking the blood pressure, cholesterol, weight and lifestyle of people aged 40 to 74 could cut the rates of diabetes and heart attacks.
Health charities welcomed the move to boost the number of checks.
The aim of the health check programme is that everyone in England between the age of 40 and 74 who has not already been diagnosed with heart disease, stroke, diabetes, kidney disease or certain types of dementia, or with certain risk factors, is invited for a face-to-face check once every five years.
The check is usually offered in GP surgeries and local pharmacies but may also be offered elsewhere. Results are given by a "healthcare professional" such as a GP, practice nurse or pharmacist.
Before local authorities took over responsibility from Primary Care Trusts for commissioning the checks in April, there was considerable variation in how widely they were offered.
'Life-saving opportunity'
PHE has launched a 10-point plan to help councils provide them to 20% of their eligible local population each year - thereby allowing them to cover all those within the age range over a five-year period.
And it will soon launch a website where it will be possible to show how many health check offers are being made by each local authority.
Mr Hunt said: "I'd like to see all 40 to 74 year olds taking up this potentially life-saving opportunity.
"And I'd like to see the NHS and local authorities encouraging people in their area to get involved. We could save 650 lives a year if there was full take-up.
"We are an ageing population and thinking about our health early is vital to living a long and prosperous life."
The PHE said the checks could prevent 1,600 heart attacks and 4,000 cases of diabetes a year.
The director of health and wellbeing for PHE, Professor Kevin Fenton, said: "We must do more to increase uptake and referral to appropriate risk-management services, particularly in those communities at greatest risk, to remove blocks in processes that get in the way and make sure the programme is of consistent high quality across the country."
The chief executive of Diabetes UK, Barbara Young, said: "We are delighted Public Health England is taking the NHS Health Check programme seriously.
"These conditions can have a devastating effect on people's lives and the basic fact is that the more people who have an NHS Health Check, the more lives can be saved."
Andrew Langford, chief executive of the British Liver Trust, said the health check programme had "the potential to reduce mortality, save money and improve the health of our nation by spotting risk factors before health conditions develop".
In Scotland, GP practices which are part of the Keep Well programme invite patients aged 40 to 64 for health checks.
NHS Wales is in the process of setting up self-assessment health checks for over 50s, in which people will fill in questionnaires and receive "tailored" health advice.