Be brave on hospital cuts, NHS told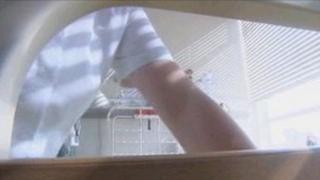 The NHS in England must show more courage by facing up to the need to close hospital services, say managers, doctors and patients.
A report by the NHS Confederation, Academy of Medical Royal Colleges and National Voices makes the case for investing in community services to help people manage their health.
It said this meant investing less in hospitals to allow the NHS to thrive.
But it said to date the service had failed in its attempts to change.
The report said too often the health service had been reactive, tweaking services rather than properly planning change.
It said this was creating a "vicious" spiral of botched changes which were often resulting in controversy, giving the example of what it called the "crisis-driven change" in south London this year.
Protestors took to the streets after it was proposed Lewisham Hospital's A&E should be downgraded because a neighbouring trust had run into financial difficulties.
'Paralysis'
The report called on politicians and those involved in the NHS to make the case for change earlier and involve patients.
It said change was needed if the NHS was going to succeed during such challenging financial times.
The report is being published as managers gather in Liverpool for the NHS Confederation's annual conference.
The issue of how to redesign services will be one of the key themes of the three-day event.
NHS Confederation chief executive Mike Farrar said: "The service itself must overcome its paralysis in relation to change and it must bring the right people with it.
"Tweaking bits of the system in isolation from each other or changing only in response to external pressures will not deliver the long-term change we need for the NHS's survival."
Jeremy Taylor, head of National Voices, a patient organisation, said: "Patients are not best served by the current pattern of services. For the safest, highest quality care, hospitals need to be organised differently and more services are needed closer to people's homes."