Increase in drugs prescribed for alcohol dependency
30 May 2013

From the section

Health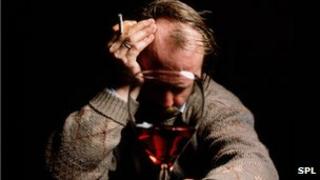 The number of prescriptions to help people dependent on alcohol has increased by 75% in nine years, a government report on England says.
Nearly 180,000 prescriptions for drugs were given out in 2012 - the highest since the annual records began.
The cost of those drugs came to about £2.93m in the past year.
The Health and Social Care Information Centre study also shows there were 1,220,300 hospital admissions related to alcohol in 2012.
The analysis pulls together information from a number of sources and shows almost two-thirds of admissions in the past year involved male patients.
In the North East region, there were 3,156 admissions per 100,000 of the population for alcohol-related issues, while the lowest figure was in the South Central area, where admission rates were 1,074 per 100,000.
These hospital admissions - up 4% on the previous year - were where alcohol was the main cause of a disease, injury or condition.
Director of campaigns at Alcohol Concern Emily Robinson said: "The report highlights the number of admissions to hospital for alcohol-related conditions have risen by over 50% in the last 10 years. The government must get a grip and implement measures that will prevent this urgent situation from getting worse.
"Alcohol Concern estimates that only one in 16 people with alcohol problem is receiving specialist help as there is just not enough treatment available."
Drug prescriptions were up 6% on the 2011 figure. Most were dispensed from GP surgeries, pharmacies or clinics, with just 6% being distributed in NHS hospitals.
The government currently recommends adult men should not regularly drink more than 3-4 units of alcohol a day and adult women should not regularly drink more than 2-3 units a day. Refraining from alcohol for 48 hours after an episode of heavy drinking is also advised.