Scans show premature-baby brain arrested development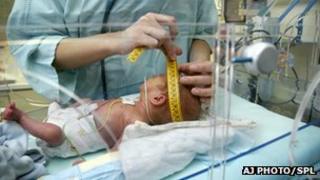 Premature birth may interrupt vital brain development processes, medical scans reveal.
Researchers at King's College London scanned 55 premature infants and 10 babies born at full term, using a novel type of MRI scan.
The brain scans showed arrested development in the premature babies at a key stage of maturation.
Experts say the work, in PNAS, could further understanding, but that parents should not be alarmed by the findings.
In recent decades there have been big advances in caring for premature babies, which mean most can go on to live a healthy life.
The researchers say the new type of imaging - which tracks the movement of water in the brain - will enable them to explore how the disruption of key processes might cause conditions such as autism.
It could also be used to monitor possible treatments to prevent brain damage.
Interrupted development
The scans showed cortical development was reduced in the preterm babies compared with those born at full term, with the greatest effect in the most premature infants - those born at about 27 weeks.
The brain regions affected govern social and emotional processing, as well as memory.
The same children were assessed at two years of age and those who had been born prematurely performed less well on neurodevelopmental tests, which the researchers say suggests the weeks a baby loses in the womb may matter.
Lead investigator Prof David Edwards said: "The number of babies born prematurely is increasing, so it has never been more important to improve our understanding of how preterm birth affects brain development and causes brain damage.
"We know that prematurity is extremely stressful for an infant, but by using a new technique we are able to track brain maturation in babies to pinpoint the exact processes that might be affected by premature birth."
Andy Cole, chief executive of the premature baby charity Bliss, said: "It is very exciting that this ground-breaking research is being driven forward here in the UK.
"A better understanding of the way that preterm babies' brains develop is an important step for doctors to help identify improvements in care that will benefit the 60,000 preterm children born every year.
"It is important to mention that most premature babies are unaffected by their early arrival and families of these babies should not be unduly concerned."