Funds to help homeless people discharged from hospital
13 May 2013

From the section

Health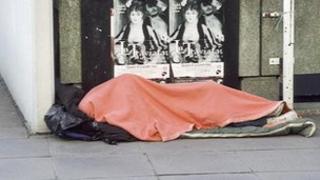 Charities which help homeless people discharged from hospital are to get £10m to continue their work.
Health minister Anna Soubry said homeless people were "too often discharged back on the street without their problems being addressed".
The money will go to charities and voluntary organisations who work with the NHS and local authorities.
One charity said it hoped funds would "stop [the] cycle of homelessness, poor health and re-admission".
Setting out the plans later on Monday, Ms Soubry will say that failing to address the problems of homeless people "is damaging to their health and increases NHS costs through 'revolving door' admissions.
"We are making £10m available to the voluntary organisations to help make sure homeless people get the support that they need when they leave hospital."
More than two-thirds of people who live on the street are treated and then discharged from hospital without their health and housing problems being properly addressed, it is estimated.
'Patching people up'
Homeless people are six times more likely to visit accident and emergency than people with a home and are also more likely to be admitted.
Homeless Link, a national charity which represents organisations among local, regional and national government, welcomed the funds.
Chief executive Rick Henderson said: "Patching people up and sending them back out to the streets where their problems will recur only leads to readmission and continued problems.
"This issue has existed for too long. We hope this investment will be the catalyst for hospitals, councils and charities to work together to stop this cycle of homelessness, poor health and readmission once and for all."