'I was in tears': Carers tell their stories
11 May 2013

From the section

Health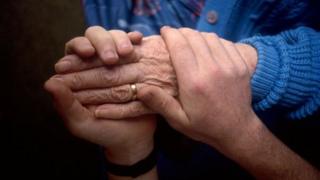 An estimated seven million people in the UK currently provide unpaid care to a sick or disabled child or an adult who could not otherwise live independently.
Many of them are already known to GPs, but the Royal College of General Practitioners says that carers should be routinely screened by their doctors for signs of depression.
A number of carers have told the BBC News website about their experiences.
Philip Wright, Cumbria
"I have four sons. My 17-year-old, Aaron, is severely disabled with quadriplegic cerebral palsy. My wife Michelle, who shared responsibility with me, nearly died in 2011 with a brain aneurysm and a heart valve replacement. It has affected her left side and she is unable to look after our son Aaron any more. So my 19-year-old helps to look after her.
"Aaron needs 24-hour care. I am up most nights and I get no sleep whatsoever. My 19-year-old son looks after Aaron on Wednesday nights so I can get at least one night's sleep a week.
"School holidays can be hell. Aaron doesn't like too much sun so we tend to stay indoors a lot. I'd like to take my boys out for the day but it's just not possible and I can't expect my eldest son to look after everyone else.
"Please don't get me wrong, I get a lot of happiness from my family so don't think it's all bad, but there are some very, very hard times.
"I love my family to bits and would do all I can but when you get no time to yourself and never get chance to socialise anymore it has become very stressful and lonely.
"I think these tests would make me feel that my welfare is being looked after which I would like. But what would really help is someone coming to the house to help me and to give me a break."
Stephanie Cammerman, London
"I have a severely disabled eight-year-old and two younger children.
"I am also an NHS doctor and struggle to keep going with my career while caring. In fact, I've changed career direction because I can only work certain shifts now and I need to be part-time.
"I get just four hours a week of help from my local council and, as I have to pay for childcare when at work, I can't afford any more to give me a break on weekends. I'm lucky that my son Sammy has an excellent nanny and a hard-working grandma.
"Sammy is in a wheelchair and unable to feed. But I'm lucky because he can chew and swallow although he still needs spoon-feeding.
"We now have a lift and a hoist system at home which has helped. He can communicate through eye contact, he smiles and he can point out choices such as whether he would like a banana or a yoghurt.
"I do strongly believe carers should have mental health screening, be offered counselling and, moreover, should be offered a physical health check annually. We do neglect ourselves due to time constraints. In fact, last year I ended up in hospital because I'd neglected my physical well-being.
"Encouraging an annual visit to the GP would provide an opportunity for the screening of physical and psychological well-being which otherwise people may feel reticent about raising in a consultation.
"If these tests find depression in every carer, it wouldn't surprise me! Counselling would help.
"But what would really help is more hours respite care - if I could just have a bit more time to myself, then I could cope far better."
Eileen Skidmore, Birmingham
"I have been caring for my mother for over 20 years now, and also care for a disabled friend.
"My health has definitely suffered. I am constantly depressed and agitated, yet I get little consideration from healthcare professionals.
"I gave up work in 1990 to care for my mum. It was soon after that I started to feel depressed.
"She started talking about things from the past and it was quite difficult for me. She's lost her natural identity.
"Often I feel very isolated and lonely. I seem to see a different doctor each time I have an appointment though.
"Screening for depression in carers is something that has been ignored. Carers need help as soon as possible, so that problems can be avoided. We need more help.
"I run a group for carers and this definitely helps me. It's only once a month but it gives me and others a bit of respite."
Sarah Springham, London
"I have cared for my husband since we married nine years ago. He suffers from severe mental illness. I gave up my job.
"I registered as a carer with my GP, but have had no pro-active response.
"I went to see her five years ago, asking for help to get my husband treatment, saying I couldn't cope any more.
"I was in tears begging for help. I told her that I was worried that I was drinking too much. All I was offered was a blood test to see if my liver was OK.
"I can't see what the tests will achieve. So someone tells you what you already know, that you're depressed. Then what?
"They either tell you that you can't work any more - in which case, what happens to the person you're caring for? Or, they give you happy pills and then you become addicted?
"My husband is slightly better now and he works part-time. I feel less depressed now because I have some time for myself now."
John Wilson, Leeds
"I look after my mum, who is physically disabled and suffers from Alzheimer's disease.
"I struggle with depression. I know when I have it as I just can't get motivated. I still have to look after my mum, but I just can't enjoy my hobbies or pursue my interests. I also get very emotional and teary. It's like being under house arrest.
"I am her main carer and have been for the past four years.
"I need more time to myself. The last time I had a day's holiday was last September.
"What would really help carers is proper time off. We know we're depressed so the tests are only of use if they're followed with practical solutions."
Julie Fearn, York
"My husband was diagnosed with terminal cancer shortly after we retired. I have been caring for him for 18 months.
"His diagnosis was a massive blow to our retirement plans. Our life has reduced considerably and the emotional strain is tremendous.
"We used to have a social life and go on holiday. Now we just stay in the house most of the time.
"I'm his primary carer, but I'm not medically trained, yet I'm meant to inform the hospital if his health deteriorates rapidly. This creates a huge sense of responsibility for me.
"I have a network of friends and family, but still suffer from anxiety and depression and take medication. It was a few months though before I went to the GP for help.
"The problem is, unless you bring your depression to the attention of the GP, no one will do anything to help.
"Screening is really important for carers.
"There should be a referral system so that when a person is diagnosed with an illness, people caring for the person have an appointment with the doctor to check how they are coping."