Breast cancer cases in UK under-50s top 10,000 a year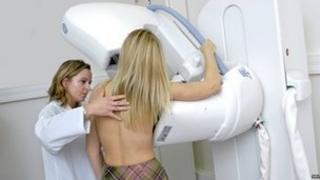 The number of British women under 50 having breast cancer diagnosed annually has topped 10,000 for the first time, according to Cancer Research UK.
The charity says one case in five in the UK is among the under-50s, though fewer than ever in that age group are dying of the disease.
Higher alcohol intake and childbirth patterns could be factors, it believes.
In 1993-95, 38 women per 100,000 had breast cancer diagnosed, compared with 42 per 100,000 in 2008-10.
In total, more than 49,500 women of all ages had breast cancer diagnosed in 2010, compared with 37,107 in 1995.
The majority of cases occur in older women.
However, the incidence rate of breast cancer in women under 50 rose by 11% over that period.
In 2010, 10,068 women under the age of 50 in the UK were told that they had the disease - 2,300 more than the number diagnosed in 1995, Cancer Research UK said.
It says it is not clear exactly what factors are behind the rise, but that increasing alcohol intake and hormonal factors such as having fewer children and having them later in life, and increased use of the contraceptive pill may be playing a role.
Sara Hiom, the organisation's director of health information, said: "Women of all ages who notice anything different about their breasts - including changes in size, shape or feel, a lump or thickening, nipple discharge or rash, dimpling, puckering or redness of the skin - should see their GP straightaway, even if they have attended breast cancer screening.
'Better care'
"It's more likely not to be cancer. But if it is, detecting it early gives the best chance of successful treatment."
Ms Hiom said the improvements in survival rates are linked to research, more awareness and better care, as well as the availability of new drugs that can be used to treat the disease.
The charity said that as breast cancer had affected younger people in the public eye, such as Kylie Minogue, that might have encouraged women to come forward sooner. But that would not explain the rise in the number of cases.
Chris Askew, chief executive of the Breakthrough Breast Cancer charity, said: "These figures show that breast cancer still affects more and more families every year in the UK and the need for research into the disease remains vital."