Child heart surgery at Leeds had to stop, says NHS boss
29 March 2013

From the section

Health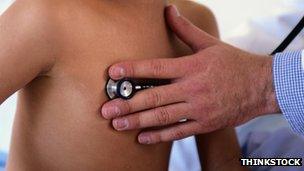 The medical director of the NHS has defended the suspension of child heart surgery at Leeds General Infirmary while a safety review is carried out.
Sir Bruce Keogh said the trust had no choice, after data suggested a death rate twice the national average, and surgeons had raised their concerns.
He conceded the timing, just 24 hours after a High Court ruling kept the unit open, was "embarrassing".
But the accuracy of the mortality figures has been questioned.
Dr John Gibbs, a former cardiologist at Leeds and now chairman of Central Cardiac Database, which supplied the figures, described them as "work in progress" in an email copied to Sir Bruce and leaked to the BBC.
He said: "We have not even got the data statistically analysed yet. It is not fair to the public [or researchers] to leak provisional data."
'Really disturbed'
The hospital is at the centre of a long-running dispute over the future of children's heart services, and an NHS review said surgery would be better focused at fewer, larger sites.
Sir Bruce said as well as the mortality rates, another area of concern among the "constellation of reasons" to suspend operations was the allegation that the hospital was not referring children to other specialist surgical units when appropriate.
"There have been rumblings in the cardiac surgical community for some time that all was not well in Leeds."
On Tuesday, two surgeons had called him to express concerns and on Wednesday there was another telephone call from an "agitated cardiologist" - later identified as Professor Sir Roger Boyle, director of the National Institute of Clinical Outcomes Research, which oversees mortality figures across the NHS.
All three doctors had connections with Leeds but were not staff there, Sir Bruce said
Professor Boyle was worried about mortality rates for the last two years, which Sir Bruce said were "about twice the national average or more" and rising.
"As medical director I couldn't do nothing. I was really disturbed about the timing of this.
"I couldn't sit back just because the timing was inconvenient, awkward or would look suspicious, as it does."
He visited the hospital on Thursday to present the evidence and the trust decided to suspend operations.
Children who would have been treated in Leeds will be sent to other hospitals around England.
Affected families are being contacted directly by the trust and the review is expected to take three weeks.
Professor Boyle told BBC Radio 5 live that while data he had received was preliminary, the suggestion death rates at Leeds were twice the national average could not be ignored.
"With the Easter weekend coming up, I'm afraid I just could not rest without sharing this information and helping Sir Bruce to come to the decision that he did," he said. "We cannot take risks with these children.
"It is better to do a 'safety first' approach and suspend operating for days or weeks - whatever is necessary to get to the absolute truth."
Professor Boyle stressed the figures were now being examined in great detail by top statisticians.
'Beyond suspicious'
Local MPs were enraged by the news. Greg Mulholland, a Liberal Democrat representing Leeds North West, said it was a "deliberate attempt" to undermine the heart unit.
Mr Andrew, Conservative MP for Pudsey, said it was a "very odd" decision coming after the jubilation that greeted the court ruling on Wednesday.
"We have always been told it's safe at Leeds, suddenly that's changed."
He added he had not received one complaint about care, only praise from parents of young patients.
Peter Jacques, from Bradford, said his son, now seven, had a heart operation at Leeds two years ago and the care he received was "outstanding".
He said: "In our opinion, given the initial campaign to reverse the closure of the unit, the timing of this decision is beyond suspicious."
The Children's Heart Federation first raised concerns about death rates at Leeds General Infirmary two years ago.
Chief executive Anne Keatley-Clarke says the charity wrote to the Care Quality Commission again in February about the difficulties parents were experiencing in getting referred elsewhere.