Did health regulator overlook problems?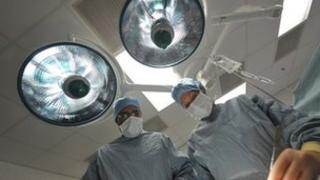 There is little doubt the Care Quality Commission (CQC) has had a turbulent and troubled history in its four years of existence. During the past 16 months, it has faced censure from two select committees and the National Audit Office.
Critics have accused the CQC of poor quality of work and management, but it has not been accused of overlooking serious problems unearthed by its inspectors, and certainly not by a senior figure from within the organisation - until now.
Kay Sheldon was appointed as a non-executive director of the CQC when it was established in 2009 just as the full story of appalling care standards at Stafford Hospital began to emerge.
She hoped the CQC would act as a strong and fearless investigator of hospitals, but she became disillusioned.
"The Mid Staffs public inquiry was under way, and it had been said by the Department of Health that Mid Staffs had been a one-off," Ms Sheldon told the BBC.
"There was a real sense that finding another Mid Staffs had to be avoided at all costs."
'Robust'
In April 2010, the CQC had the task of deciding whether hospitals complied with essential safety standards.
In theory, those trusts that failed to be registered as "safety compliant" would have to shut their doors.
A few trusts, such as the Barking Havering and Redbridge University Hospitals NHS Trust, were registered as compliant "with conditions", but none were failed completely.
In theory, any hospital failing to register as safety compliant would have to be handed over to a new group of trouble-shooters or, in the last resort, close its doors to patients.
The public inquiry on Mid Staffs led by Robert Francis QC indicated the CQC had come under pressure during 2010 to ensure hospitals were safe to practise.
"The initial registration of NHS trusts and foundation trusts [as safety compliant] seems to have been influenced by time pressures not of the CQC's making," its report, published last month, said.
Ms Sheldon is particularly concerned at the registration as safety compliant of the University Hospitals NHS Trust for Morecambe bay in Cumbria, which was awarded foundation trust status in October 2010.
She first raised questions internally about its registration when the CQC conducted an investigation of Furness General Hospital in 2011, but she was assured that earlier probes had been a "robust piece of work".
The trust is now at the centre of allegations of poor standards of care at its maternity unit and more than 30 families have begun litigation. There is also a long running investigation by Cumbria police into the deaths of a number of babies who had received care at Furness General Hospital.
Ms Sheldon said she had received documentation in 2012 showing that inspectors had learned of problems at the maternity unit in the months leading up to registration.
She said: "I know that the CQC was aware of the serious problems at Morecambe Bay during the end of 2009 and beginning of 2010. I've seen documents that confirm this.
"It just doesn't make sense. There is no way that the trust could have turned itself round in two or three months."
The BBC has seen documents prepared by senior managers at the CQC that clearly indicate knowledge not only of problems in the maternity unit at Furness General but across the trust.
The CQC also knew the trust had commissioned its own investigation following a number of baby deaths, which resulted in the critical report by nursing expert Dame Pauline Fielding.
This was received by trust managers in March 2010 weeks just before it was registered as safety compliant by the CQC. It was not publicly disclosed at the time.
Ms Sheldon added: "It was a very shocking thing to find, thinking that an organisation that's there to protect patients had effectively given what amounted to false assurance and that meant that problems in the trust carried on unacknowledged and unaddressed."
In January this year, the Health Select Committee also expressed concern over the circumstances surrounding the registration as safety complaint of Morecambe Bay, and the CQC has hired consultants at Grant Thornton to investigate allegations of a cover-up.
Their report will go to the CQC Board on 24 April. The government has also announced an inquiry to be held in public.
'Open and transparent'
Ms Sheldon also has concerns that the CQC registered as safety compliant 15 trusts it knew to have above average mortality rates.
The issue of these hospitals was raised by Prof Sir Brian Jarman, of the Dr Foster research group, in March 2010 with the then Health Secretary Andy Burnham. Mr Burnham passed the information to the CQC.
Ms Sheldon said: "It seems that the CQC knew about the concerns; that it knew about the high mortality rates - that's only something I've just become aware of. It concerns me greatly that the CQC had that information and yet registered these trusts as fully compliant at the time.
"It raises significant questions in my mind as to what was actually going on between the CQC and the Department of Health."
A spokesman for the CQC described Kay Sheldon's criticisms as "historic". The spokesman added: "We are changing the way we inspect hospitals and making other changes to the way we work.
"These include strengthening the board and senior management team, for example by recruiting a chief inspector of hospitals, a chief inspector of social care and a chief inspector of primary care to lead our inspections.
"The CQC is committed to being an open and transparent organisation, focused on making sure health and social care services provide people with high quality care that they have a right to expect of health and care services."
The changes announced by the government on Tuesday include a new chief inspector of hospitals to be appointed by the Care Quality Commission.