The changing health service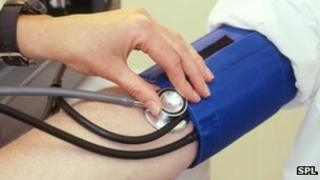 Of the many suspicions surrounding the government's NHS changes in England, none has loomed larger than the fear of privatisation.
Critics warn big multinationals will be able to cherry-pick the most profitable services - destabilising the rest of the NHS.
But private companies say they can improve the health service, bringing innovation and efficiency.
Opinions remain deeply divided over the likely impact of the NHS changes, which come into force next week.
Last year Virgin Care won a £500m contract to run community health services in Surrey for five years.
The company runs more than 50 types of service across the county, including district nursing, community hospitals and prison healthcare.
A community matron with the firm, Carol Connelly, was anxious when Virgin Care took over. She was fearful that the switch to a private operator might lead to things being done "on the cheap".
But that is not how it has worked out so far.
"We've been very lucky in that when we've identified areas where we need equipment, such as ECG [electrocardiograph] machines, money has become available to buy this equipment and enable us to do the job".
In Surrey the company is running a "virtual ward", which means working out who needs most support to keep them independent and out of hospital, and then providing proactive care.
'Big opportunities'
One patient, Rose Webeler, 84, told us she had been unaware of the switch to Virgin Care and was not bothered.
"I don't mind as long as you get the good service. I just don't take any notice of it. I get a good service from them, and that's what matters to me."
Virgin Care says it is developing the virtual ward model by improving the data on who needs help, listening to staff and enabling them to work more efficiently.
So instead of recording details of each visit on five separate forms in different locations, they are to be given mobile tablets - such as an iPad - and will report the information just once.
Dr Neil Goulbourne, the company's head of innovation, says the best ideas come from the workforce.
"I think if you go out and ask most clinicians and other staff in the NHS they will often be able to tell you where money is spent in a way that is not as efficient as possible, how you can do things more efficiently and productively, and so for us it's about listening to them, identifying those priorities and investing to save money elsewhere."
NHS spending on independent healthcare providers rose by more than 10% last year. A lot of that was on community health services. The government's reforms mean that more contracts like the one in Surrey are likely to come up for tender.
'Deep pockets'
Dr Jacky Davis, from the campaign group Keep Our NHS Public, says private firms have a big advantage in bidding for business.
"The private sector - their expertise is in winning government contracts. That's what they do. And they have backrooms full of lawyers. They have very deep pockets to spend on tendering for NHS services."
Despite repeated government assurances, she fears companies will be able to cherry-pick activities where they can make money, such as elective surgery.
She believes the NHS will be left with the difficult, complicated work which will drive hospitals into financial failure. But she says it is not too late to reverse the changes.
"We mustn't think we can let the politicians take it away from us. This was a political decision to go down this route. And we can fight political decisions, so everybody who cares about the NHS come out of your houses, stop shouting at your television, join a campaign."
Professor Chris Ham, from the King's Fund think-tank, believes the reforms will lead to a greater role for private companies in the NHS but he doubts the change will be dramatic.
"We're seeing examples of that already with companies like Virgin and Serco, and Circle in Hinchingbrooke, already gaining a foothold in the NHS market and offering some new models of care to NHS patients, but I think it's a long step from that to a future where most forms of care are delivered through the private sector."