Is cheaper beer a sign of muddled thinking?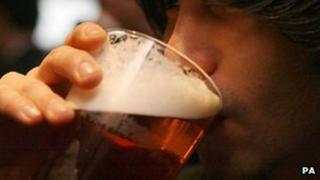 "A penny off a pint," George Osborne proudly proclaimed as he delivered his Budget.
But while this was widely welcomed by some, it does raise a pressing question: is the government muddled in its approach to alcohol?
Up until last week, ministers seemed to be on the brink of introducing minimum pricing in England and Wales as a way of tackling rising levels of alcohol misuse.
It would have been a revolutionary move - only a handful of places in the world have taken such a tough stance.
But then the news emerged that the policy was likely to be dropped and now we learn booze will be getting cheaper.
Understandably those pressing for tough action on drinking are perplexed.
James Nicholls, research manager at Alcohol Research UK, says: "While action on the beer duty escalator will help pubs, the government needs to make its position clear on the issue of very cheap, high-strength alcohol.
"These are the products that cause the greatest levels of harm. They are also the products that David Cameron has repeatedly promised to target.
"It must explain how alternative policies will be more effective in addressing this problem."
The government, even in light of the chancellor's announcement, is maintaining it will, arguing it still wants to do something about cut-price alcohol.
'Tricky task'
But if ministers are serious, what can they do next?
In the past there has been talk of ending multi-buy offers.
And before minimum pricing was put on the table - by all accounts by the prime minister himself - the government was actually in the process of introducing a ban on below-costs sales.
That would have directly targeted the supermarkets that sell cider, wine, beer and spirits as a loss leader to entice shoppers into their stores.
Below-cost bans work by forcing retailers not to discount alcohol below the level of tax and duties placed on them.
However, one of the problems with this policy was that a quirk in tax rules means duties are levied differently from product to product.
While beer can be taxed on strength, the tax on wine and cider is predominantly linked to volume.
This has meant that while brewers have gradually been reducing the alcohol content of beer, the opposite has happened for other drinks.
A recent review by the Institute of Fiscal Studies recommended this issue be taken up with the European Union.
It argued using the tax system might be more effective in reducing problem drinking than minimum pricing.
The move would also have the effect of swelling government coffers rather than industry's.
It is easy to see why that may be more attractive to a government facing such a tricky task in balancing the budget.
But, of course, the impact in terms of hitting the pocket of consumers is the same.
And perhaps that is the crux of the problem. You only need to see the way cheaper beer is welcomed in the pubs and bars across the country to realise that targeting the price of alcohol is not an easy thing for a government to do.