Is a new NHS reforms row brewing?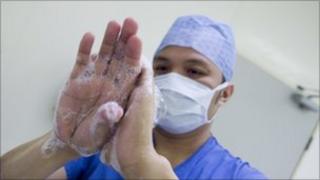 Grumblings of disquiet are nothing new in politics. But when they involve the government's NHS reforms the scope for trouble is heightened - as the latest spat illustrates.
Over the past few days there has been mounting concern about regulations 257.
The document, which was laid before parliament on 13 February, covers the procurement of health services in England.
It may sound pretty dry, but to the government's critics it is a blueprint for privatisation.
Ministers of course deny this. David Cameron was even drawn into the debate on Wednesday, defending the regulations as amounting to nothing more than what Labour was doing when it was in power.
That, you may remember, is the same argument as the one which the government put forward when its reforms first hit the buffers two years ago.
Assurances
What has caused the problem is the way the regulations are worded.
It uses phrases such as all providers must be treated equally "particularly on the basis of ownership" and contracts can only be awarded without competition for "reasons of extreme urgency".
That has prompted both Labour and the Lib Dem MPs to express concern that assurances ministers gave at the height of the controversy last time that there would not be unfettered competition are being broken.
For the government, still bruised from the reforms' difficult passage through parliament, it is a sensitive issue.
So why risk a new controversy now - just a month away from the new system going live on 1 April?
The regulations were laid as part of the mopping up exercise following the passage of the Health and Social Care Act.
Procurement of health services are currently governed by primary care trusts.
But as these are being abolished new rules and guidelines are needed for the GP-led groups which will be replacing them. These are them.
In some respects they are little different from the regulations that proceeded them. Services will still be allowed to be tendered without any competition - if they are deemed a core service such as an A&E unit.
The regulations also stress the need for ensuring services are integrated and that benefit to patients remain the guiding principle.
But it is the passages that refer to when contracts are tendered out to the market that is at the heart of this.
While publicly the government is maintaining competition is not being given free rein, there is an acceptance behind the scenes that some of the language used in the document has not been helpful.
It is understood that the rewording of some of the more colourful parts is being considered in an attempt to offer some "reassurance".
If that happens it is unlikely to be enough to appease the most strident critics, but what ministers will be hoping is that it stops the grumblings becoming an avalanche of criticism.