A&E waits 'highest for a decade'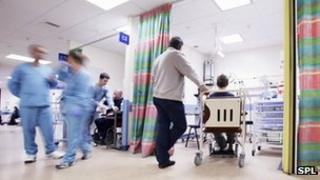 The number of people in England facing long A&E waits has risen by a fifth in a year - and is now at its highest level for a decade, a report suggests.
The King's Fund review found from October to December 2012 more than 232,000 patients waited more than four hours.
That is a rise of 21% compared with the same period in 2011 and the highest figure for those months since 2003.
A&E doctors blamed a combination of rising pressures and staff shortages.
The number is still within the government's target.
A&E units only have to see 95% of patients within four hours, to reflect the fact that some flexibility is needed to allow doctors to prioritise the patients with the greatest need. The 232,000 figure represents 4.3% of patients.
The think-tank also found evidence of patients who needed to be admitted on to a ward being left on trolleys for long periods of time.
The report - part of the King's Fund quarterly update on NHS performance - also found a growing number of finance directors were concerned about budgets.
'Growing worries'
But there was some positive news.
It said waits for non-emergency hospital operations were holding steady, while infection rates were falling.
Nonetheless, report author Prof John Appleby said: "The NHS faces unprecedented pressures and there are growing worries that patient care will suffer."
College of Emergency Medicine president Mike Clancy added: "The report mirrors the experiences being relayed to us by our members.
"It is clear to us that emergency departments are under pressure and we are concerned about the impact on patients.
"A significant contributor to the situation is the workforce crisis."
But Health Minister Lord Howe said: "We have been absolutely clear that the NHS must find the efficiencies needed to deal with increased demand on the service without compromising on patient care and services.
"We expect the NHS to look seriously at how it can improve how care is provided."