Why bed sores matter more than reforms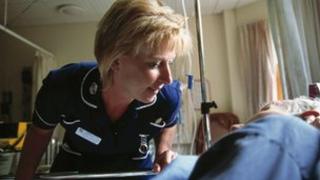 The complete overhaul in the structure of the NHS is a little over two months away.
From April GP-led groups will take charge of much of the health budget, while day-to-day control will be handed to the NHS Commissioning Board.
To mark the historic change, the BBC's Inside Out programme has produced a series of reports from across the country on the changing nature of the health service.
But as always it is not the structural changes that stand out, rather what the programme has to say about standards of care.
As part of its focus on the NHS, Inside Out has obtained data under the freedom of information act about serious untoward incidents.
These are serious mistakes that hospitals have reported have put patients at risk.
The system by which they are registered was introduced several years ago to help the health service learn from its mistakes.
As you would expect, errors during surgery and outbreaks of infection feature heavily.
But the biggest problem - by far - is something else.
Of nearly 12,000 incidents reported across England, more than 40% related to bed sores.
This issue will be featured on the West Midlands version of the programme as the region has the worst record in the country with one of its trusts - the Dudley Group - reporting that two thirds of its 307 incidents related to bed sores.
Of course, an organisation the size of the NHS is bound to make mistakes.
After all, its sees a million patients every 36 hours or so - and most leave happy with their care.
Deeper problem
But what is most telling about this data is that something as avoidable as bed sores is proving such a problem after all this time.
Back in the 1850s Florence Nightingale was complaining about the presence of bed sores, saying they represented a failure of nursing.
Yet still they are an issue.
Bed sores - or pressure ulcers as they are also known - happen when pressure restricts blood supply to the skin.
Some are only small sores, others are open wounds that can lead to serious complications.
Research shows - and the NHS has accepted - that 95% of bed sores can be avoided through regular assessment and turning patients when necessary.
But these figures suggest these steps are not always happening.
In the Inside Out programme, Steve Jamieson, of the Royal College of Nursing, puts it down to inadequate staffing.
He says: "If we think of the complex needs of some of these patients we may need two or in fact three nurses to deliver appropriate care to one patient.
"So for example, turning someone who is obese would take more than one nurse and if you've got four nurses who are on duty at one time on a ward of say 36 patients - to take three nurses off to be able to turn one patient on a regular basis, you know, takes time.
"So I think there is something about making sure the staffing ratio is right in areas where people have got complex needs."
Certainly, the squeeze on finances has had an impact. Latest figures show that nurse numbers have fallen in the past two years.
But others believe there is a much deeper problem.
In the past year critical reports by the likes of the Patients Association and Care Quality Commission have raised concerns about the culture that is allowed to develop in some places, leading to failings in basic care.
This is likely to be thrown into sharp focus in the coming weeks by the publication of the report of the public inquiry into Stafford Hospital scandal, where hundreds of patients died needlessly between 2005 and 2008.
Even on the eve of the biggest reorganisation in its history, as always its the quality of care that the NHS stands and falls by.
BBC Inside Out is broadcast on BBC One on Monday, 21 January at 19:30 GMT.