Could we ever run out of blood?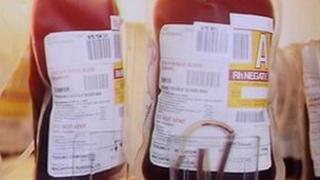 Urgent appeals for blood donors seem to be a regular event - certainly at this time of year. So what triggers an appeal and is it feasible that we could ever run out of blood?
NHS Blood and Transplant (NHSBT), which runs the service in England and north Wales, put out an urgent appeal for O negative donors last week. It currently has just 3.2 days of O neg blood, while the Welsh Blood Service has four days and the Scottish Blood Transfusion Service has 6.1 days.
People who are O neg are so-called "universal donors" as their blood can be given to patients will different blood groups.
Blood donations are used for a wide range of conditions including anaemia, leukaemia, during surgery and following organ transplant.
The last urgent appeal was in the run-up to the Olympics, when there were concerns that the national focus on a summer of sporting events combined with a large influx of visitors, might mean a shortage of blood.
The appeal was a success with O neg stocks reaching seven days, and other targets for donation being met.
Jon Latham, from NHSBT, says very careful consideration is given before making an urgent appeal for donors: "As soon as we make an appeal, donors respond, but we have to be careful not to do them too often. That's why I have absolute confidence that we would never run out of blood."
Every year 225,000 new donors are needed just to replace those who drop off the register. So while urgent appeals are there to deal with sudden dips in donation, there is a constant quest to recruit volunteers.
One worrying trend is the 20% drop in the number of young people giving blood over the past decade. Last year there was a 50% drop in 17-18 years olds registering compared to 2011.
Jon Latham says the Olympics seemed to have a "distracting effect" on donors aged 17-18 with a marked decline during and after the Games.
Mr Latham said a number of new approaches were being tried to appeal to younger donors: "We do a lot with social media and now have a smartphone app which allows people to search for donor sessions."
Two months ago NHSBT launched an appeal for 100,000 new donors in 100 days, with young actors from the Hollyoaks television soap fronting the campaign.
A major innovation in 2013 will be the launch of an online portal which, for the first time, will allow donors to book and change appointments and access personalised information. NHSBT hope this self-service approach will appeal particularly to younger donors.