Shortage of critical care paediatric beds, doctors warn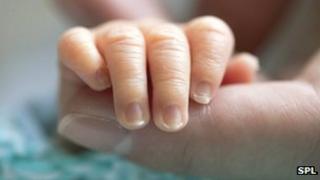 The NHS is facing a shortage of beds to treat critically-ill children, doctors warn.
The Paediatric Intensive Care Society and three other medical organisations say all 29 units in the UK are running close to capacity due to a surge in seasonal respiratory illness.
The Department of Health is expected to release additional money to help hospitals with winter pressures.
On Monday there were 10-20 unoccupied beds available.
During the previous week, there were days when virtually all of the beds were full - although doctors stress no child came to any harm as a result.
Services stretched
Medics say paediatric services are working hard to keep up with demand and are under "severe pressure".
Honorary secretary of the Paediatric Intensive Care Society (PICS) Peter Wilson said: "Although all trusts are really stretched we have had zero adverse outcomes, which is good news.
"We understand waiting is frustrating for parents."
He said it was not unusual to see peaks in admissions over winter, but that so far this year there had been relatively more respiratory infections circulating among children than in recent years.
"This year the number of beds has been tight because there's been a steady increase in admissions without an increase in bed numbers.
"In certain areas of the UK there may be a need for more beds but opening stacks more is not the answer. During the summer these would sit empty, wasting money."
He said each bed costs the NHS about £2,000 per day - most of this is for the necessary staffing.
The Intensive Care Society, PICS, the Association of Paediatric Anaesthetists of Great Britain and Ireland and the Faculty of Intensive Care Medicine say there is no single solution to the problem, but make a number of recommendations.
Urgent training
This includes having better centralised co-ordination over the use and number of paediatric intensive care beds as well as borrowing services from adult NHS wards.
For example, some adults in intensive care could be moved to other hospitals further away to make room locally for some of these very sick children.
Medical and nursing staff on these general intensive care wards could urgently be given training in how to care for young children instead of the usual adult patients they encounter, says the joint statement.
NHS Medical Director Bruce Keogh said: "Demand for paediatric intensive care beds can fluctuate dramatically particularly when viral respiratory illnesses strike in winter.
"In recent weeks demand has been high, but well managed by paediatricians and intensive care staff who have worked extremely hard to ensure all children received the care they needed."
Last week the chief executive of the Heart of England NHS Foundation Trust Mark Newbold voiced concerns about bed shortages in his blog.
He wrote: "An ITU [intensive treatment unit] bed is needed, but across the country there aren't any. They had hoped for one in Cardiff, but just been told it had gone.
"So, the baby is safe in our (brand new) paediatric emergency department (ED), and awaiting an available ITU bed, but the 'rules' say we must move the child, the kit, and the team somewhere else. But where? The children's ward would not be safe.
"Our adult ITU colleagues advised that they were not skilled to care for babies. Every doctor agreed - the safest option was to keep baby in ED, until an ITU bed became free and the retrieval team arrives."