Dog bite hospital admissions increase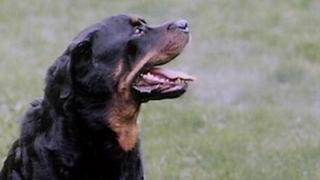 Hospital admissions for dog bites have risen in England by more than 5% on last year.
Figures from the Health and Social Care Information Centre show that 6,450 people were admitted during the 12 months to April this year, compared with 6,130 the previous year.
The worst-affected group was children aged under 10, who accounted for more than 1,000 admissions.
Three-quarters of those children needed surgery.
Of the 1,040 admissions among children aged under 10 for dog bites and strikes, 494 admissions were for plastic surgery and 278 were to the oral and facial surgery unit.
During the 12 months from May 2011 to April 2012, hospital admissions for all conditions increased by 1.3%.
Trauma unit
The figures also show that hospital admissions for males stayed constant between the ages of 10 and 45 and then decreased with increasing age.
Females' admission rates were lower between the ages of 10 and 45 and then similar to men's at older ages.
For adults there was a higher rate of admissions to the trauma and orthopaedic treatment unit, three per 100,000 for adults aged 20 to 29 and four per 100,000 for adults aged 40 to 49 compared with one per 100,000 for under-10s.
Admission rates per head of population were highest in the North East Strategic Health Authority (551 admissions in total) and lowest in London (574) and the South East Coast (299).
HSCIC chief executive Tim Straughan said the data provided an insight into the injuries sustained too.
"Through further analysis, it is also possible to infer a likely distinction in the type of injuries sustained by child and adult victims of dog bites and strikes; with children having a higher rate of admission to the specialities that carry out plastic and specialist facial surgery."