Team tackling contraception myths in northern Nigeria
19 July 2012

From the section

Health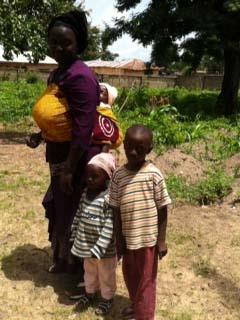 A big international meeting in London has raised £3bn to help couples in the world's poorest countries plan the size of their families. I went to a clinic in Nassarawa in the south of Nigeria, to see what this sort of aid looks like on the ground.
Nigeria is Africa's most populous nation - but the notion of birth control still proves controversial sometimes.
Gitata village is about 90 minutes' drive from the capital, Abuja. About 40 women are sitting on chairs on dusty ground, listening intently as a midwife, Zeinab, explains different contraceptive methods.
Samples are passed around - the women have just been handling an intra-uterine device (IUD), a coil. They are keen to ask about side-effects.
The female condom gets a less than favourable reception, attracting gales of laughter.
A community mobiliser - a man with a megaphone - toured the area in recent weeks, to ensure villagers were aware the contraception team would be visiting.
This is their fourth time in Gitata. The previous clinic here attracted 150 patients.
But this time, recent attacks by the Islamist militant group Boko Haram have made some women scared to travel - even though the heart of the insecurity is far away in the north of Nigeria.
After the presentation by Zeinab, each patient is given a number and the nurse, Bridget Doka, shouts out for the next woman to be seen inside the simple hut of two adjoining rooms.
Hidden concerns
Each woman is seen individually, to talk about what contraception she would like, before being taken into the other room where procedures such as injections are actually carried out.
Dr Kingsley Odogwu, who is overseeing today's clinic, told me: "Some women have certain hidden concerns they want to say in the confidential counselling, rather than outside.
"One of the commonest misconceptions is thinking that family planning is a Western ideology to stop women from giving birth completely."
A handful of men have appeared at the clinic too.
One of them asks Dr Odogwu about a vasectomy - but on finding out more, he declares he is happy to stick with condoms.
The principle of informed consent is important, with forms filled out for each patient - not least so the staff can keep track of any future medical complications.
A mother-of-three, Gloria Isheku, told me why financial pressures such as school fees have led her to seek help with contraception.
She said: "If my husband and I have more than these three, we cannot give them what we're supposed to or what they want me to give them.
"That's why I want to do the family planning. At least now I can train them the way I want to."
In the procedure room, Justina Friday, 27, has allowed me to watch her having a contraceptive implant inserted under the skin of her left arm. The device is the size of a hair-grip.
Her son Peter was wailing at the thought of being parted from her, so he lies at his mother's side her as the implant is put in.
Dr Odogwu chats quietly to Justina to keep her calm throughout the simple procedure, which takes just a few minutes. Although the fabric of the room is slightly shabby, the implant is inserted efficiently and hygienically.
Justina said: "I'm happy. I don't want to be pregnant again now - in another three years is fine."
Black market
Until services began expanding in the past few years, women in southern Nigeria tended to pay for their contraception at small drug stores.
But the outreach work in Gitata, which has helped women like Justina free of charge, is funded by the British government and run by the provider, Marie Stopes International.
Their programme in Nigeria is relatively new and country director, Richard Boustred, told me the supply of contraceptives can sometimes prove erratic.
He said: "There is a very strong pharmaceutical black market here. It's rumoured that a lot of the commodities that come in for the public sector, to come to facilities like this, get siphoned off at various stages in the supply chain.
"They apparently go into the black market and get sold to pharmacies. Some of it even goes to neighbouring countries.
"The implants we're providing cost around £15 to £20 for each device. So if you're bringing in 10 or 20,000 of them, it starts to get profitable for anyone who sells them on.
"Often there's an imbalance favouring the shorter-term methods, because staff might not be trained to use the longer-acting methods.
"We're keen to focus on long-term methods because many of these women in places like Gitata have travelled a long way. They might have spent as much as a month's wages doing that. They can't do this every month.
"And the women often prefer the longer methods, because they don't have to remember to take a pill every day."
Contraception can sometimes still be a controversial area.
There was criticism from anti-abortion campaigners at the Society for the Protection of Unborn Children that the funds raised at the family-planning summit in London could be used for terminations - despite the organisers' insistence that a firm dividing line had been drawn.
At the same time some pro-choice lobbyists were unhappy that abortion was not part of the conversation.
But many doctors and other activists said it was important that clear focus was given to a subject they say has been marginalised for too long.