'Champions' raise diabetes awareness among ethnic minorities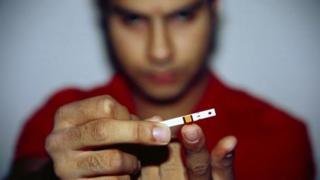 Every three minutes someone in the UK is diagnosed with diabetes - but there are thousands of people who do not know they have it.
Type 2 diabetes accounts for 90% of all cases in the UK, with people from South Asian backgrounds up to six times more likely to develop this form than white people.
Now, after a successful project which started in London, the charity Diabetes UK is recruiting community champions from ethnic minority backgrounds all over the UK to raise awareness of the condition.
Type 1 diabetes develops when the body's immune system attacks and destroys the cells that produce insulin, which is needed to regulate blood glucose levels.
As a result the body is unable to produce insulin and this leads to increased blood glucose levels. This in turn can cause serious damage to organs in the body.
It develops most frequently in young children, teenagers and young adults, and unlike Type 2 diabetes, it is not preventable.
Type 2, most commonly diagnosed in adults over 40, develops when the body does not produce enough insulin to maintain a normal blood glucose level, or when the body is unable to effectively use the insulin that is being produced.
Dr Quratulain, 30, trained as a medical doctor in her native Pakistan but is now studying in London. She volunteered to become a diabetes community champion because her mother Parveen has Type 2 Diabetes. She has been in the role for more than a year.
"I wanted to somehow help the South Asian community in the UK because I know they are reluctant to go to their GP
"I know a lot about South Asian foods. I thought if I start working with an organisation like Diabetes UK I will be able to help people from my community."
Misconceptions
Since the community champions programme started in London in 2010 it has trained more than 150 health workers and community leaders from a variety of backgrounds including Indian, Pakistani, Bangladeshi, Nigerian, Somali and Polish.
The Department of Health has now awarded Diabetes UK with a grant of £116,000,through the Volunteering Fund National Awards, for the programme to be rolled out across 12 English cities over the next two years including Slough, Luton, Birmingham, Leicester, and Sheffield.
Community champions learn about both types of diabetes, but focus on Type 2 because it is disproportionately prevalent among ethnic minorities.
They are told about risk factors, symptoms - and the myths and misconceptions which exist in some cultures - and how to effectively raise awareness.
Once trained, they hold events, give talks and encourage people at high risk to visit their local GP or community pharmacist for a diabetes test.
Type 2 can go undetected for up to 10 years, and 50% of people already show signs of complications by the time they are diagnosed.
Some of the serious long-term complications include heart disease, stroke, kidney failure, blindness and amputation if the condition is not managed properly.
Shaleen Sandhu, diverse communities officer for Diabetes UK, runs the volunteer recruitment and training programme for the charity. She says community champions play a vital role in raising awareness.
"In the UK there are 2.9 million people who have it, but there are 850,000 people who have it but are undiagnosed," she says.
Slough was the first place to train champions on the national roll-out.
One of those based in the town, Angela Kakur, said: "My brother, dad and grandparents all have diabetes, so I've become more aware of it and what I need to do to look after my own health.
"I can reach out to people of my own age in my local community and spread the word about the risks of developing Type 2 diabetes and the complications that can occur if diabetes isn't managed well."
To find out if you are at risk of developing Type 2 diabetes, take an online risk assessment .
You can hear more on Asian Network Reports on the BBC Asian Network