Ambulance 999 response change 'will save lives'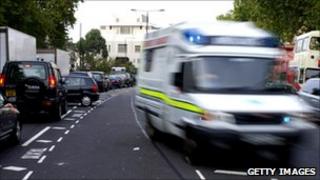 At least 150 lives will be saved and thousands of wasted ambulance journeys avoided by a change in 999 response practices, NHS chiefs believe.
From June, operators in England will get an extra 60 seconds before they need to dispatch crews to serious but non-life-threatening callouts.
Trials showed the extra time meant fewer double dispatches, where two crews are sent, freeing up resources.
This in turn meant the crews could get to the patient more quickly.
To date it has been standard practice to send two crews, to ensure there are enough staff on hand to deal with cases and to ensure the patient is reached quickly.
Eight-minute target
But by gathering more information before dispatch, the pilots showed improvements could be made without harming the overall response time.
Under the system, the most serious calls - category A - will be split into two groups.
Life-threatening cases where somebody has had a cardiac arrest or is unconscious and not breathing will be known as Red One.
Crews still have to be sent immediately to these calls.
But for the rest of the category A calls - Red Two - operators will get up to 60 seconds to decide what sort of response should be sent.
The overall target for reaching the patient will stay at eight minutes for all category A calls.
During the pilots held in London and the West Midlands, the new system reduced the number of vehicles sent out - because of fewer double dispatches - and cut the number of cancellations when vehicles were en route.
It also meant that patients were reached more quickly for both Red One and Two cases as there were more crews available.
Peter Bradley, the national ambulance director, said: "Making this small change will mean more ambulances and rapid responders will be ready to go and help patients - rather than be stood down while on their way to somewhere they aren't needed."