Ambulances 'facing regular delays at A&E'
13 December 2011

From the section

Health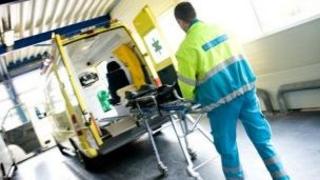 Ambulances are facing delays when they take emergency patients to hospital in England, the BBC has learnt.
Data provided by the 11 ambulance services showed all are experiencing difficulties handing over patients.
Hospitals are supposed to take charge of them within 15 minutes of the ambulance arriving, but some are missing this in over half of cases.
Waits of an hour are even being experienced at times, delaying crews from attending other 999 calls.
It means paramedics are left waiting with their patients in hospital corridors or stuck in their vehicles until a nurse or doctor can take the person off their hands.
In the worst cases, A&E units have to close for a short period and divert ambulance crews to other hospitals.
However, systems are in place to ensure patients whose lives are in danger are fast-tracked in ahead of those who are not at immediate risk.
The BBC obtained the data through Freedom of Information requests to individual ambulance trusts.
London has the worst difficulties with the 15-minute goal - it is not an official target - being missed in more than 45% of cases on average in recent months compared to just over a quarter at the start of 2009.
Surges in demand
Lizzy Bovill, London's ambulance service's deputy director of strategic development, said the problem meant "patients wait unnecessarily on ambulance trolleys and in corridors" and prevent crews from responding to other emergency calls.
"Hundreds of hours are lost every week because of delays and it's been getting gradually worse over the last few months," she added.
To reflect the busy nature of the capital's health system, hospitals are only expected to meet the 15-minute handover target in 85% of cases but none of the 33 hospitals are currently managing that.
Queen's Hospital in north-east London has one of the worst records with more than half of arrivals facing waits of more than 15 minutes each month since the start of this year.
Shelagh Smith, the hospital's emergency care manager, said the trust was committed to tackling the problems and was in the process of increasing the off-load area for ambulances.
"We need to be able to cope with a surge in the number of ambulances at the hospital - at times we have to deal with up to 12 ambulances on site at once."
The rest of the country is facing significant difficulties too, according to the data provided under the Freedom of Information Act.
In the East of England the 15-minute mark is being missed in 40% of cases, while the East Midlands, West Midlands and South Central services are experiencing delays in well over 30% of cases.
As in London, some hospitals in these regions are delaying ambulance crews in the majority of cases.
The Alexandra Hospital in Worcestershire is expected to hit the 15-minute mark all of the time and yet has missed it in 56% of cases this year.
In Norfolk the Queen Elizabeth Hospital has failed for 52% of patients over the past 12 months.
In many cases the problems appear to be getting worse with only the Great Western ambulance service - the smallest in the country - seeing a clear improvement year-on-year although a quarter of patients are still waiting for more than 15 minutes.
Delays are mostly encountered when there is a surge in demand and hospitals run out of beds to put emergency patients in.
Jonathan Fox, of the Association of Professional Ambulance Personnel, said: "There are some horrendous delays being experienced - waits of over an hour aren't unheard of. It means we can't get out to attend other patients as quickly as we should and that is a risk."
Jo Webber, deputy policy director of the NHS Confederation, which represents both hospital and ambulance managers, said: "This is a sign of a system that is getting very busy. We are getting more and more 999 calls. In recent years, we have tried to treat more at the scene rather than conveying them to hospital.
"But the problem is it is now very finely balanced, there is no slack in the system so when it gets busy delays happen."
But Health Secretary Andrew Lansley said: "Hospitals need to ensure they have proper plans in place to deal with high demand."
The handover of patients in Wales, Northern Ireland and Scotland is recorded differently. However, ambulance chiefs acknowledged there were pressures in the system, but they were not as severe as in England.