Judge says the preservation of life is key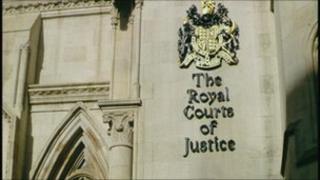 On the face of it, the decision by a High Court judge in the case of M is no surprise - few would have expected a ruling to allow a patient with any level of consciousness and feeling to die.
But a closer inspection of the 76-page judgement shows that Mr Justice Baker did not find his decision a straightforward one.
Preservation of life
The woman, known only as M, suffered profound brain damage eight years ago after contracting a virus. Doctors have concluded that she is "minimally conscious", meaning that she has some limited awareness.
Her family argued that she is in pain, got no pleasure from life, and would not wish to be dependent on others
As has been reported, a key reason for the refusal to allow M to die was because "the preservation of life is a fundamental principle."
Best interests
But Mr Justice Baker accepted that this principle is not absolute. It may seem contradictory, but he also ruled that if M was to have a heart attack, then the current "Do Not Resuscitate" order should be continued.
How can that be? The key here, as in any case regarding a person who is incapacitated or unable to make a decision for themselves, is what is deemed to be in their best interests.
The judge took the advice of doctors that M would suffer further brain damage if her heart stopped which would leave her in a worse condition, and therefore resuscitation would not be of benefit.
Mr Justice Baker went further, leaving it to clinicians, in consultation with the family, to decide whether M should receive antibiotics or other treatment, should it be needed at some future date. He said it would depend on the circumstances.
The judge adopted what's known as a balance sheet approach when setting out the pros and cons of his decision about whether to authorise the withdrawal of M's feeding tubes.
"Die with dignity"
Among the arguments in favour included that she would "be freed from the pain and discomfort from which she is currently suffering, and the prospect of increased pain from her chronic conditions."
He also said that by allowing M to "die with dignity" the court would be acting in accordance with what family members firmly believe M would have wanted.
There were yet more arguments listed in favour. It would mean M would be "spared" further years of life in a minimally conscious state "from which there is no likelihood that she will emerge".
Finally, although M would "experience discomfort and possibly pain and distress" when feeding tubes were withdrawn, those experiences would be "limited in time and can be ameliorated by medication and experienced end of life care".
But, Mr Justice Baker found the arguments in favour of preserving M's life more persuasive.
"Sensate being"
He said "there is a significant risk that the process of dying by starvation and dehydration will cause her pain and distress".
M would continue to experience life as a "sensate being with a degree of awareness of herself and her environment."
He said M would continue to gain pleasure from listening to conversation and music, and "if her room is made more comfortable and homely, her immediate surroundings will become more congenial and add to her pleasure in life."
The judge pointed to medical evidence which suggests that because M is clinically stable, she will continue to experience life at this level for a number of years.
Those on both sides of this argument can draw comfort from the judgement.
The solicitor representing the family, Yogi Amin said it meant High Court judges could now rule in other cases of minimally conscious patients as to whether it was in their best interests for treatment to continue.
Until the case of M, judges had considered the withdrawal of feeding tubes only in cases of patients who were in a vegetative state, where they had no awareness.
Care Not Killing, an alliance of groups which promotes palliative care and opposes euthanasia and assisted suicide welcomed the judgement.
Peter Saunders, its campaign director, said it was "a wise and sensible decision which upholds the law and maintains present levels of legal protection for severely brain-damaged people."
Anguish
This was undoubtedly a complex case with powerful arguments on both sides. The judge acknowledged that his ruling would be a severe disappointment to M's devoted family who had already suffered years of anguish.
There will undoubtedly be extensive debate on this topic. Before anyone rushes either to applaud or condemn the ruling, I would recommend they read the full judgement which Mr Justice Baker very helpfully has made available online.
In such cases there is never a perfect remedy - which could only be for M to recover. Given that impossibility, it is for judges, rather than doctors, relatives or anyone else, to decide between life and death.