Patients waiting beyond 18 weeks rise by a third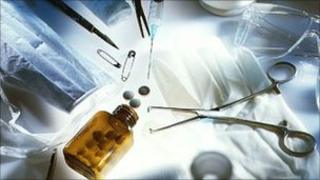 The number of hospital patients in England waiting over the 18-week guarantee has jumped by a third in the past year, figures show.
Of the 300,000 seen in July, over 28,000 had waited beyond the target - a 34% rise from the same month last year, official statistics showed.
Those who waited over six months rose by 55% to more than 9,000.
But overall the NHS is still hitting its target to see 90% of patients in 18 weeks as 90.6% were.
The 10% leeway is allowed to reflect the fact that some patients may choose to wait longer for valid personal or medical reasons.
However, the rise in the numbers waiting beyond 18 weeks is further proof of the growing pressure on waiting times in the health service.
Pressure
It mirrors similar patterns seen in recent months and means the government's promise to ensure the 18-week standard is kept will be severely tested during the autumn and winter when hospitals tend to get busier.
Some of the longest waits are being seen in the busiest speciality in the NHS. Nearly one in six patients needing orthopaedic treatments, such as knee and hip replacements, waited over 18 weeks in July.
But health minister Simon Burns said the health service was still doing well.
"The vast majority of patients still receive treatment within 18 weeks.
"We are committed to driving improvements in performance and the quality of care that the NHS provides - including keeping waiting times low."