Hospitals must adapt to new world, says NHS chief
25 February 2011

From the section

Health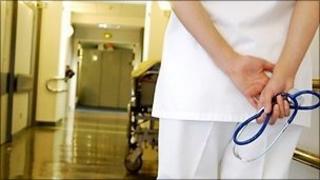 Private sector take-overs, mergers and more community-based care may be needed to ensure all hospitals survive the shake-up of the NHS, the head of the health service says.
Sir David Nicholson told the BBC the combination of reforms and squeeze on spending meant some hospitals would find the future "difficult".
He said he did not expect any hospitals in England to close completely.
But he said some would need to adapt and change to remain competitive.
Sir David, who will become the chief executive of the NHS commissioning board when GP consortia are set up, admitted the health service was facing one of its toughest and most demanding periods ever.
The NHS budget is only getting annual rises of 0.1% above inflation for the next four years - the first time in its history that it has had such a period of small rises.
"It is a difficult settlement for the NHS, no doubt about it," he said.
But he added it was partly off-set by the large rises the NHS has got over the past decade and should be seen in the context of the cuts elsewhere across government.
'New world'
Sir David said the funding situation, coupled with the NHS changes, was creating a "new world" for the health service.
"Most hospitals will be able to survive and thrive in the new world. But undoubtedly there will be those that will find it difficult," he said.
"The thing about the hospital service is that it has grown enormously over the last 10 years in particular and we are going into a period where growth in the NHS is what they describe as 'flat real'.
"Those hospitals whose business model is based on increasing capacity have got to seriously look at the way they operate.
"That is why some hospitals are looking towards taking over community services."
The NHS chief executive also conceded some hospital trusts may have to merge with their neighbours, which in turn would lead to a scaling back of some services.
Meanwhile, he said, others may end up with private companies running them - as is happening in Cambridgeshire with Hinchingbrooke Hospital where Circle has been chosen to manage the trust.
Sir David said it was "too early" to tell on what sort of scale these approaches would be needed although he said in all likelihood they would only happen in a minority of cases.
And he added the "expectation" was that there would not be complete closures.
This contrasts with the warning from the NHS Confederation last month that some hospitals may have to shut.
The report said the threat from private health firms under the "any willing provider" policy meant they could lose business.
Paul Flynn, of the consultants committee of the British Medical Association, agreed hospitals were facing a challenge.
"It is going to get harder especially when you consider the private sector is going to get more involved. There is a real risk."