Have Your Say
Top Stories
Live
Election Live - 1 April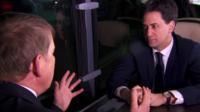 Rolling political coverage from Breakfast News and Today, to Newsnight.
Bosses' letter fuels business battle
The Conservatives welcome an "unprecedented" pre-election endorsement by 100 business leaders while Labour promise new rights for workers on zero-hours contracts.
EU milk quota system is abolished
EU milk quotas are scrapped, bringing an end to more than 30 years of efforts to prevent overproduction.
1 April 2015

From the section

UK

comments
Can you help?
Your questions
Ask Jeremy Vine a question about election night coverage
#BBCAskThis
Send your questions on the 2015 General Election
9 March 2015

From the section

UK
Tips for filming
Top tips for sending your #BBCAskThis videos
23 March 2015

From the section

UK