Shakespeare Kings cycle to run at Barbican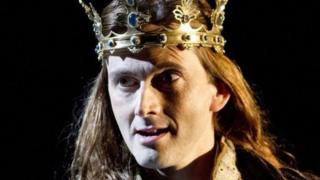 David Tennant is to reprise his award-winning Shakespearean role as Richard II at London's Barbican theatre in January 2016.
His performance will form part of a Cycle of Kings season at London's Barbican theatre in 2016.
Tennant first took on the part to much acclaim in 2013 for the Royal Shakespeare Company (RSC).
He stood out not just for his "mesmerising" performance but also for his "Christ-like" appearance.
Richard II will be one of a season of RSC productions being staged at the Barbican from November 2015.
Tennant's 2013 production opened at the RSC's home in Stratford-Upon-Avon in October before transferring to the Barbican in December.
The former Doctor Who and Broadchurch star won the WhatsOnStage best actor award for the role.
Bard anniversary
The return to the London venue is as part of its King and Country: Shakespeare's Great Cycle of Kings season.
It will also include previously staged productions of Henry IV Parts I and II and Henry V.
Like Richard II, they too will see other notable actors resuming starring roles they have originally played for the RSC.
Antony Sher will return as Falstaff and Jasper Britton as Henry IV in the Henry IV plays.
Alex Hassell will again take on his role as the young Hal and the mature king in Henry V.
The new run of Richard II will reunite Tennant with director Gregory Doran, who is in charge at the RSC.
The pair previously worked together on Hamlet in 2009.
The RSC season runs from 7 November to 24 January and will form part of the Barbican's programme marking 400 years since Shakespeare's death in 2016.
Other highlights include a series of screenings of the Bard's plays, called Shakespeare on Screen, featuring highlights from 50 years of the RSC.
They include include Trevor Nunn's legendary 1979 production of Macbeth with Ian McKellen and Judi Dench and Peter Hall's A Midsummer Night's Dream from 1959 with Charles Laughton as Bottom.
A new staging of Shakespeare's A Midsummer Night's Dream will also be performed in May 2016, with a mixed cast of professional and amateur actors.