Joan Rivers' family: 'We're keeping fingers crossed'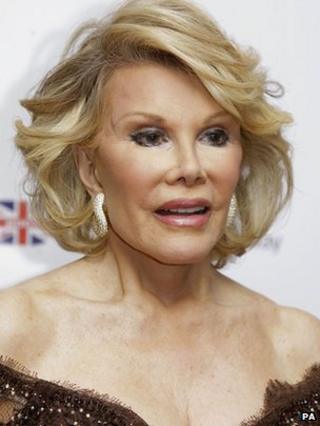 The daughter of Joan Rivers has said the family are keeping their "fingers crossed" as the comedian and TV host recovers from a cardiac arrest.
The 81-year-old was taken to New York's Mount Sinai Hospital on Thursday after her breathing stopped during a vocal cord procedure at a clinic.
Melissa Rivers also thanked people for their "continued love and support" in a statement released by the hospital.
She described her mother's condition as "serious" on Friday.
Since then there has been no update, although the New York Daily News has reported that Doctors have begun bringing Rivers out of her medically induced coma, which is likely to take until Tuesday.
Mother and daughter appear in reality show Joan & Melissa: Joan Knows Best? while Joan is also the outspoken host of Fashion Police on the E! Network, turning her acerbic wit on the fashion faux pas of Hollywood stars.
'Every prayer counts'
Celebrities including comedian Sarah Silverman and Donald Trump have taken to Twitter to send their best wishes for her recovery,
One of her Fashion Police co-hosts Kelly Osbourne tweeted: "4 the first time in years I got down on my knees & prayed tonight!"
She added: "I encourage U 2 do the same 4 Joan Rivers my grandma! #inconsolable."
Their co-presenter Giuliana Rancic wrote: "Praying for Joan Rivers and Mel Rivers. Even though Joan's the strongest woman I know, every single prayer counts. I love you, Joan."
Rivers had performed a show in New York on Wednesday, where spectators said she appeared well. She had also attended both the MTV Video Music Awards and the Emmys earlier that week.