Wilde's grandson brings scandal to stage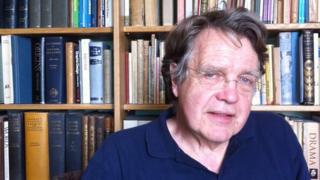 Oscar Wilde's career as a writer was destroyed by the most scandalous court case of the Victorian age. A new play reconstructs parts of the trials, drawing on full transcripts for the first time. The co-author is Wilde's grandson, who hopes to shed new light on the case's unique mixture of the flamboyant and the forensic.
Today, 13 Albemarle Street in central London houses a well-known American fashion store. But the frontage remains that of the gentleman's club it was in late Victorian times. Oscar Wilde was a member.
Next door is now an equally well-known jeweller but in 1895 it was Carter's Hotel, where the Marquess of Queensberry had taken a room.
On 18 February 1895, the Marquess walked into the Albemarle Club and handed the porter a visiting card on which he had written a few words. He explained it was for Oscar Wilde when next he came in.
The handwriting is unclear and his spelling eccentric but the words are normally taken to be "For Oscar Wilde Posing as Somdomite (sic)". In Victorian England, the effect could barely have been more shocking.
Wilde was one of the most celebrated men in London. His comedy The Importance of Being Earnest had opened to acclaim a few days earlier at the St James's Theatre nearby.
To the Marquess's fury, Wilde was in a gay relationship with his son Alfred Douglas, known as Bosie.
The Marquess probably hoped the card would provoke a libel suit: he believed investigators already had enough evidence from male prostitutes to send Wilde to jail.
The Trials of Oscar Wilde, at the new St James Theatre in London, shows how dramatically that assumption was met. The co-author is Merlin Holland, Wilde's only grandchild.
"For half a century people have been asking me why my grandfather allowed himself to be provoked by that card," says Holland.
"Oscar knew he would be vulnerable because of his and Bosie's adventures with rent boys. In part probably, it was arrogance - he had two hit plays running in London. But also he was in love - and that does funny things to us all."
Holland's new play, which has already toured Britain, is based on a full transcript of the first trial at the Old Bailey in April 1895, with Queensberry in the dock for libel.
On its third day, the case collapsed and the Marquess's lawyers sent a file of damning witness statements to the director of public prosecutions. Wilde was charged with gross indecency.
"The handwritten transcript of the trial which I've adapted with John O'Connor is about 85,000 words: before there had only been a version of 35,000 words. So you get a much clearer sense of the trial.
"This version was made by court shorthand writers and then written up into longhand. It turned up in the year 2000 when it was brought to the British Library in London. It was the holy grail of Wilde studies and when I saw it, I quite literally fell off my chair."
Holland sticks to an agreement not to reveal where the document had spent the previous century.
"It was the libel trial where the real fireworks occurred between my grandfather and Edward Carson, who was counsel for Queensberry. But we also include some of the crown case against Wilde in the second and third trials which took place once the tables were turned."
The first jury was split (reportedly 10-2 in favour of conviction) and the case against Wilde was re-tried with a new jury.
"Throughout the trials, Oscar defended his own art with great fervour and defended his love for Bosie Douglas," says Holland.
"Then he defended his relations with rent boys, though only with great difficulty. We cover those three elements - though obviously you can't get everything into a two-hour play."
Holland says in some ways his grandfather's trial was the first celebrity court case. "Technology had moved on so the trial could be reported in newspapers in America and Australia almost as soon as it happened. The medium Oscar exploited to become world-famous became part of his downfall.
"So ordinary people read of these shocking events, although newspaper accounts at the time were heavily edited to omit detail of the homosexual underworld which had never featured before in a prominent trial."
But Holland thinks human nature hasn't changed much. "There have been more recent cases where people sued for libel even though they knew the facts were against them. You might think the Wilde case would teach them that's a very bad idea. But people go ahead and do it anyway. Perhaps they believe, as probably Oscar did, that they're above the law."
Since the trial, many people have been critical of Bosie Douglas, seeing him as more interested in attacking his detested father than in protecting his lover. Holland is more generous.
"Yes, he worked on Oscar to get at his father. But there's no doubt that my grandfather loved Lord Alfred Douglas and wanted to please him. Bosie had a vile temper and could behave appallingly and was utterly selfish. But he was no mean poet and Oscar saw something in him which genuinely he admired. But like any love affair, ultimately it's a mystery.
"What happened to my grandfather in 1895 was an awful thing: he was sent to prison for two years basically because he was gay and to be made an example of.
"Under the laws which then prevailed he was guilty and you can argue that Oscar - encouraged by Bosie - took massive and needless risks in court. But the real sadness is that when his jail term ended in 1897, he was a broken man."
After his release, Wilde spent the rest of his life in Italy and France. It may be no coincidence that Holland now lives in Burgundy.
"From his earliest days in Dublin, my grandfather was a hugely talkative and social person who needed people around him at all times. He adored conversation and company.
"For the last three years of his life he saw certain friends of course, and Bosie came back into his life, but essentially he was an outcast from the society he'd loved. Perhaps it's why he could never write another great play."
Wilde died in 1900 at the age of 46.
"In a sense, the Marquess of Queensberry got his way: my grandfather had been punished for his wickedness and being forced into exile as a social pariah helped kill him.
"Yet people are more interested in his life than ever, even more than when I was a young man. Oscar was extremely fond of being famous: he'd be overjoyed that he's now at least as well-known as he was in 1895."
The Trials of Oscar Wilde opens at the St James Theatre, London on 10 July.