Sandra Bullock suspect arrested at her home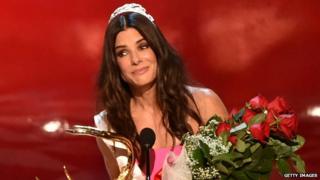 A suspect was arrested on Sunday after allegedly breaking into the Los Angeles home of actress Sandra Bullock while she was at the property.
According to county jail records, Joshua Corbett, 39, is being held on $50,000 (£29,650) bail.
Nuria Vanegas of the Los Angeles Police Department said Corbett was in the yard "checking out the house" when police arrived, the Daily Telegraph reported.
He was detained at approximately 06:30 (PST) on Sunday at Bullock's home.
Police confirmed that Corbett did not enter the house.
He was arrested on suspicion of burglary, Los Angeles Police spokeswoman Wendy Reyes said.
A phone message left for Bullock's publicist Cheryl Maisel was not immediately returned. But she told People magazine that Bullock is "unharmed and fine."
Bullock is best-known for her roles in films such as Speed, Gravity and The Blind Side, for which she won an Academy Award.
The break-in came just hours after Bullock celebrated winning the "decade of hotness" award at Saturday's tongue-in-cheek Spike TV Guys' Choice Awards.