Angelina Jolie: 'Most fans are just wonderful'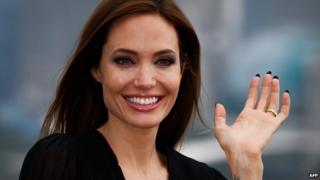 Angelina Jolie has said her security arrangements will not change following Vitalii Sediuk's red carpet "attack" on Brad Pitt last week.
"People like that are an exception to the rule," she told the Associated Press. "Most fans are just wonderful."
Pitt previously told People magazine Sediuk was a "nutter" who tried to "bury his face in my crotch" at the premiere of Jolie's film, Maleficent.
Sediuk was sentenced to probation and ordered to attend counselling.
The 25-year-old pleaded no contest to battery and unlawful activity charges after the incident on Wednesday.
He was also ordered to stay away from Pitt and Jolie.
The Oscar-winning actress is in Shanghai to promote the live-action Disney film, in which she plays the villain from Sleeping Beauty.
When asked if the incident had made the couple more wary of fans, Jolie said: "No, no... we've had a wonderful experience over the years and are very grateful for their support and it will not change the way we behave."
But in Monday's statement, Pitt, who was unharmed after being accosted by Sediuk, said: "I don't mind an exhibitionist, but if this guy keeps it up he's going to spoil it for the fans who have waited up all night for an autograph or a selfie, because it will make people more wary to approach a crowd."
Jolie told the press conference she was proud of the way Pitt had handled the situation: "He is fine. He was fine that night. He's a very strong man and he handled the situation perfectly, so he's good."
Maleficent is the biggest box-office debut of Jolie's career after earning nearly $70m (£41.7 million) in the US last weekend.
It has also proved to be a major box office draw in the UK, earning £6.6 million and topping the chart.