Miss Saigon attracts new audience for 25th anniversary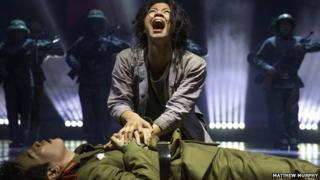 Sir Cameron Mackintosh says his 25th anniversary revival of Miss Saigon has attracted advance ticket sales from an "incredibly young" audience.
The musical, set during the Vietnam War, opened in London on Wednesday in front of a celebrity-packed audience.
It has already broken box office records for advance bookings.
"For me in my own lifetime to reinvent one of the greatest musicals ever written is a privilege," said Sir Cameron.
Among the star names at the show were Stephen Fry, Lord Julian Fellowes, Miranda Hart, actor Eddie Redmayne and film director Tom Hooper.
Based on the opera Madame Butterfly, Alain Boublil and Claude-Michel Schonberg's musical tells the tragic story of an orphaned Vietnamese girl, Kim, who falls in love with an American GI named Chris.
Schonberg and Boublil, who also wrote Les Miserables, have written a new song called Maybe for the production.
"This show seems to have a stronger rapport with the audience than it did 25 years ago," said Sir Cameron, after the opening night at the Prince Edward Theatre.
"We've got record breaking advance booking but it's not from the normal theatre audience. It's from mostly younger people, a few hardcore fans, but mostly younger people who've never seen the show. They've heard about it from their parents."
The theatre impresario - whose other productions include Les Miserables, Cats and The Phantom of the Opera - was recently named among the billionaires on the Sunday Times super-rich list.
Miss Saigon broke the record for the largest single day of sales in West End and Broadway history when it went on sale last September, with takings of £4.4m on the first day.
That figure eclipsed the amount taken by The Book of Mormon, which set the previous record in March 2013 when it took £2.1m in one day.
Sir Cameron said the revamped production of Les Miserables in New York was also attracting a new generation of musical fans.
"With this show, and Les Miserables and The Book of Mormon, the audience is incredibly young."
Miss Saigon arrives after a number of other recent high-profile West End casualties.
The X Factor-inspired musical I Can't Sing! closed after just two months. The Full Monty closed after five weeks, Andrew Lloyd Webber's musical Stephen Ward lasted for four months and the curtain came down on Sir Tim Rice's From Here to Eternity after six months.
"It's unfortunate when other shows close but that's been happening all my career," said Sir Cameron. "Two or three shows close and it becomes a great news story. When two open, everybody says: 'Everyone wants to see musical'."
'Audience sniffles'
In Miss Saigon, the seedy role of The Engineer is played by Jon Jon Briones, who was in the original 1989 London cast.
"I was part of the ensemble," he recalled. "I was surrounded by talented people and The Engineer was played by Jonathan Pryce. Watching him at rehearsals was a master-class every day."
Eva Noblezada, 18, who plays Kim, has yet to graduate from her school in North Carolina, US.
"It was so powerful tonight," she told the BBC. "I do love to hear the sniffles in the audience because that means we did a good job."
The Telegraph praised her "deeply felt performance and soaring voice".
In his four-star review, Charles Spencer said: "Laurence Connor's production has a cinematic fluency and he keeps the dramatic tension simmering throughout. For all its many merits, however, I find it easier to admire Miss Saigon than to love it."
"It's less operatic than before and has a grittier feel. Yet it remains a huge spectacle, and the music surges and soars," said the Evening Standard's Henry Hitchings.
"I can't say I was deeply moved, unlike the lady in front of me forever dabbing her eyes," admitted The Guardian's Michael Billington. "But I came away feeling this is a successful variation on an old tale and put across with exemplary vigour."