Farley Mowat, Canadian author, dies at 92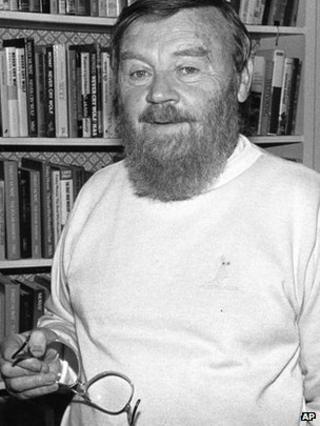 Canadian author Farley Mowat, who wrote more than 40 books selling some 17 million copies, has died aged 92.
A friend of the author told Associated Press he died on Tuesday after collapsing at his house in Ontario.
Mowat's best-known works include Never Cry Wolf - a fictional tale about his actual experience living with wolves in sub-Arctic Canada, which was made into a film in 1983.
Canadian Prime Minister Stephen Harper called Mowat "a natural storyteller".
"[He had] a real gift for sharing personal anecdotes in a witty and endearing way. His literary works almost always reflected his deep love of nature and of animals,'' Harper said, in a statement.
"His legacy will live on in the treasure of Canadian literature he leaves behind, which will remain a joy to both new and old fans around the world."
Canadian novelist Margaret Atwood also paid tribute, tweeting Mowat was a "wonderful colleague & friend of many years".
Mowat was also an ardent environmentalist. He campaigned for the need to protect wildlife and strongly opposed over-development by humans.
"I feel sorry for us because not only are we a bad animal, but we're most inevitably a doomed animal. Every species dies out. But our doom is here and now," he told an interviewer in 1998.
Born in Belleville, Ontario, in 1921, Mowat began writing about the natural world from a young age. As a teenager, he started a magazine called Nature Lore and had a column in a local newspaper.
He served as an officer in Italy in World War Two before coming to prominence in 1952 with his first book, People of the Deer, about an Inuit tribe battling starvation and government indifference in Canada's Arctic.
Never one to shy away from controversy, he was outspoken about many environmental issues.
He called Canada's annual seal hunt "perhaps the most atrocious single trespass by human beings against the living world that's taking place today," and said hunts in general were "symbolic of the massive destruction that we've visited upon life".
Mowat was awarded the Queen Elizabeth II Jubilee Medal in 1956, the Order of Canada in 1981 and a lifetime achievement award from the International Fund for Animal Welfare in 2003.
He is survived by his second wife, Claire, and sons David and Robert.