Mike Leigh to make opera debut with Pirates of Penzance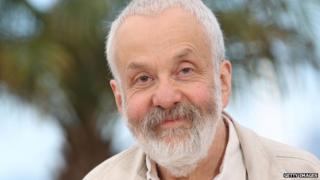 Mike Leigh will make his debut as an opera director with Gilbert and Sullivan's The Pirates of Penzance for the English National Opera.
The new production will open in May 2015 at the London Coliseum.
"It's great music, it's a banquet," said Leigh, whose 1999 film Topsy Turvy chronicled the creative partnership between Gilbert and Sullivan.
"Having known it for 60 years, I've got to be fresh with something I already know," he added.
Leigh's project was announced on Tuesday as part of the ENO's 2014/15 season that includes a new opera inspired by 9/11 and the ENO's first opera for children.
Leigh joins a number of other film directors who have worked on operas for the ENO. The 2013/14 season includes the late Anthony Minghella's Madame Butterfly, Terry Gilliam's Benvenuto Cellini and Penny Woolcock's The Pearl Fishers.
The Pirates of Penzance, which will run for 19 performances, has 45,000 tickets available and will be screened to more than 400 cinemas - which the ENO says will make it "one of the most widely seen operas of the year".
"It had to be a Gilbert and Sullivan," said John Berry, the ENO's artistic director, who approached Leigh with the idea.
"He's got a reputation for being tough and demanding," he told the BBC.
"This is the first time he's done a project where he's not creating an original story and improvising a story with a group of actors he's worked with for over 20 years. So it's quite a big departure for him."
The 2014-15 season also includes a collaboration with Bristol Old Vic to present Monteverdi's Orfeo in the UK's oldest continuously operating theatre.
The ENO is also going into a long-term commercial partnership with veteran producers Michael Grade and Michael Linnit to stage "world-class musical theatre", which may include West End transfers.
Meanwhile, Tansy Davies' Between Worlds - based on the events of 9/11 and directed by Deborah Warner - will have its world premiere at the Barbican in April 2015.
Joanna Lee's opera for five to 11 year olds, The Way Back Home, based on the children's book by Oliver Jeffers, will premiere at the Young Vic this December.
Peter Sellars returns to ENO as director-in-residence, with two connecting pieces told from the perspective of women: the world stage premiere of John Adams's The Gospel According to the Other Mary and the UK's first fully-staged production of Purcell's The Indian Queen. ­