Chichester season opens with Amadeus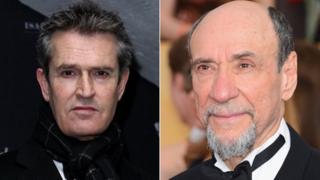 Chichester Festival Theatre will reopen after a £22m refurbishment with a new production of Amadeus, starring Rupert Everett as Salieri.
The 2014 season will also reunite Imelda Staunton with director Jonathan Kent in the musical production Gypsy.
The pair previously worked together on the West End transfer Sweeney Todd.
The work of Amadeus playwright Shaffer lies at the heart of the new season, including his play Black Comedy and a series of readings by Simon Callow.
There will also be premieres of new work by One Man, Two Guv'nors playwright Richard Bean and David Haig, best known for his roles in Four Weddings and a Funeral, and as Rudyard Kipling in his previous stage play, My Boy Jack.
Pitcairn, one of three world premieres this season, sees Bean explore the fallout from the mutiny on the Bounty. It will be directed by Max Stafford-Clark.
Pressure, by Haig - who also features in the cast - tells the little-known true story of a Scottish meteorologist's crucial role in determining the outcome of the 1944 June D-Day landings.
Taken At Midnight, by Mark Hayhurst - the third premiere - uncovers the true story of German lawyer Hans Litten, who famously put Hitler on the witness stand. The play, which features Penelope Wilton as Litten's mother, will also be directed by Church.
"As great writers, great directors and great performers are at the heart of what we do, I'm thrilled to present a programme distinguished by the finest dramatic writing, with new plays standing front and centre of our season," said Chichester's artistic director Jonathan Church.
The season will also include new versions of August Strindberg's Miss Julie - in a double bill with Shaffer's Black Comedy - and One Hundred and One Dalmatians, adapted by Bryony Lavery.
World renowned dancer Carlos Acosta will make his Chichester debut, choreographing the musical Guys and Dolls, while Lara Pulver (Sherlock) and Kevin Whately (Lewis) will star alongside Staunton as the indomitable Mama Rose in Gypsy.
Other star turns include Zoe Wanamaker playing poet Stevie Smith in the eponymous Stevie, and Patricia Routledge in An Ideal Husband.