Tony Robinson wins Blue Peter Book Award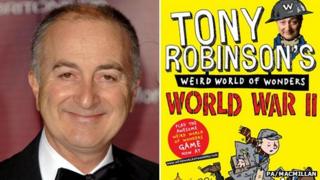 Author, presenter and former Blackadder actor Sir Tony Robinson has won a Blue Peter Book Award for Weird World Of Wonders: World War II.
A panel of judges and young viewers voted him top of the factual category, while Rooftoppers by newcomer Katherine Rundell was named best story.
"If happiness is usually the size of a tennis ball, my feelings are the size of Australia," Sir Tony said.
The awards are part of the CBBC show's World Book Day celebrations.
Sir Tony, who has written more than 20 books as well as fronting Channel 4's Time Team, previously picked up a prize in 2007 for his book Worst Children's Jobs In History.
"Blue Peter is a genuine stamp of approval and because children themselves do the voting, there's something very real about this win - it actually feels like a pat on the back from the readership themselves," he said.
The show's editor Ewan Vinnicombe said the book about World War Two was "witty, clever and gives the reader an insight into an important historical event".
The winners were announced during a World Book Day Newsround bulletin, who will collect their prizes during Thursday's Blue Peter programme.
Writes of passage
A series of events have been scheduled in schools, nurseries, bookshops and libraries around the UK to celebrate the day, with the hashtag #WorldBookDay trending on Twitter.
Organisers have also created their "ultimate list" of 50 recommended reads for teens, divided into categories including "books that will change the way you think" and "books that will make you cry".
Thousands of adults and teenagers in the UK voted for their Writes of Passage, with the top 10 led by Suzanne Collins's teen blockbuster The Hunger Games and The Fault in Our Stars by John Green in second place.
Classics such as Joseph Heller's Catch-22, Judy Blume's Forever, The Shining by Stephen King and the Harry Potter series also feature on the list, which is designed to keep young people reading as they make the transition to adulthood.
"This is a brilliant and varied list proving there is no one genre or definition which exactly describes an ultimate story which may inspire and fire the imagination of teenagers," said children's laureate Malorie Blackman, who wrote hit series Noughts and Crosses which is also in the top 50.
"We have everything, from established classics to modern blockbusters to genuine surprises," she added.
A study to coincide with World Book Day revealed the average British household has 138 books, but more than half of them have never been read.
The survey of 2,000 adults by self storage firm Shurgard showed two-thirds kept books because they were emotionally attached to them, with an estimated 3.6 billion on shelves, in bedrooms or lofts in people's homes.