Philip Seymour Hoffman: Theatre prize to honour actor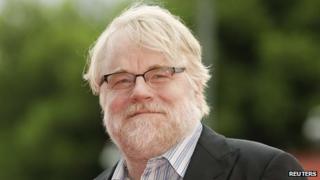 A playwriting prize is to be named after late actor Philip Seymour Hoffman, funded by a libel settlement from US paper The National Enquirer.
The $45,000 (£27,000) bursary was suggested by the Oscar winner's friend David Katz, who sued the publication over an article about their friendship.
The story was printed just days after Hoffman's death earlier this month and subsequently retracted.
Katz's lawyer said the prize would be funded "for years to come".
David Burnstein told the New York Times that Katz, who is a playwright, wanted the undisclosed settlement to be used positively, and had set up the American Playwriting Foundation as a result.
He said he had spoken often with Hoffman about how "it's a tragedy playwrights can't survive being playwrights - about how nice it would be if you could make your rent and still have an occasional steak."
The annual prize will be known as the Relentless Award, in a nod to the late star's pursuit of artistic truth and integrity.
A panel of four theatre writers, including Mr Katz, will form a selection committee to choose the recipient of the bursary, whose work must be previously unproduced.
The National Enquirer published a story making allegations about the relationship between Hoffman and Mr Katz, asserting that the two men took drugs together.
Mr Katz said Hoffman never took drugs in his presence and that he had never spoken to the publication.
The National Enquirer removed the story and contended they had been given their information by another David Katz, who claimed that he was the playwright.
As well as the libel settlement, the magazine is due to publish a full-page apology in the New York Times.
Mr Burnstein said the man claiming to be Mr Katz would also face a legal challenge.
Hoffman died at the age of 46 following a drugs overdose at his New York apartment on 2 February.
His final text message exchange was with Mr Katz, who went to the star's home and discovered his body in the bathroom.