Obituary: Harold Ramis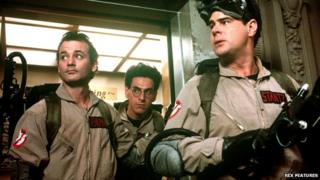 Actor and director Harold Ramis, best known for the films Ghostbusters and Groundhog Day, has died aged 69.
Born in Chicago to convenience store owners Ruth and Nathan, Ramis studied at Washington University in Missouri and, on graduation, briefly worked as an orderly on a psychiatric ward.
He started his career as a writer by penning arts stories for his local newspaper and editing Playboy magazine's "party jokes" section.
"It was amazing how many of these jokes were written in pencil on three-ring notebook paper, or came from people who were incarcerated," he told The Chicago Reader. "It was also amazing how many of them dealt with farmers and farm animals.
"At the time - it was the late 1960s - the Playboy editors wanted to modernize the jokes a bit, to make them more counterculture. A big part of my job was changing 'the farmer' into 'a swinging advertising executive.'"
After leaving the magazine, he joined Chicago's renowned Second City improvised comedy troupe but said he realised his limitations as a performer after encountering John Belushi.
"When I saw how far he was willing to go to get a laugh or to make a point on stage, the language he would use, how physical he was, throwing himself literally off the stage, taking big falls, strangling other actors, I thought: 'I'm never going to be this big.'"
Instead, he was content to play the straight man, opposite Bill Murray in the 18-rated army comedy Stripes and, subsequently, Ghostbusters.
The film, a global smash in 1984, spawned a sequel in 1989 as well as a long-running cartoon series. A third instalment had been in development for several years.
Ramis acknowledged that the spectral comedy was his most memorable work but took pride in its longevity.
"People love Ghostbusters in a really big way," he said in 2009. "Parents loved it for their kids. Teachers loved it.
"We got mail from teachers who said they loved that kids were playing Ghostbusters at recess because it was a non-violent game that didn't divide the kids into good guys and bad guys and the games were very co-operative. It's really had some power."
After the sequel, Ramis developed his career behind the camera, directing Robert De Niro in Analyze This.
His other films included The Ice Harvest, Bedazzled and prehistoric comedy Year One, his final movie, in 2009.
While his work did not directly translate into Academy Awards success, Ramis - along with Danny Rubin - won the best screenplay Bafta for Groundhog Day in 1994.
He said that his time on a psychiatric ward had prepared him for directing Hollywood's elite.
"People laugh when I say that, but it was actually very good training," he told journalist Mike Sacks. "Not just with actors; it was good training for just living in the world.
"It's knowing how to deal with people who might be reacting in a way that's connected to anxiety or grief or fear or rage. As a director, you're dealing with that constantly with actors. But if I were a businessman, I'd probably be applying those same principles to that line of work."
Film producer Brian Grazer once called him "the father of the modern Hollywood comedy", saying his Animal House script was "thoroughly ripped off by the Porky's series" while "Caddyshack was ripped off by Happy Gilmore; Ghostbusters by Men in Black; and Groundhog Day by the Adam Sandler comedy 50 First Dates."
Ramis also inspired a new generation of film-makers, including Judd Apatow, who cast the director in his 2007 comedy Knocked Up.
More recently, he had directed episodes of NBC television's The Office. "No matter what I have to say", he once declared, "I'm still trying to say it in comedic form."
He died of autoimmune inflammatory vasculitis, a rare disease that involves swelling of the blood vessels, his agent told the BBC.
The star had been quiet about his illness, which dated back to 2010, but several friends had visited him recently, including Bill Murray, from whom he had been estranged for years, the Chicago Tribune said.
He is survived by his wife, Erica, sons Julian and Daniel, daughter Violet and two grandchildren.